Spray Sleep Supplement
15 ml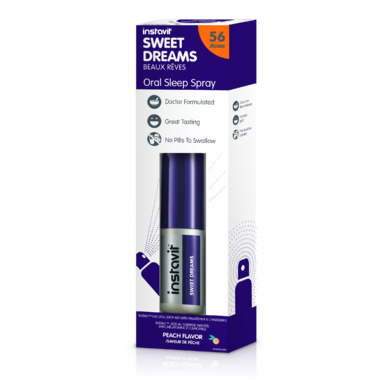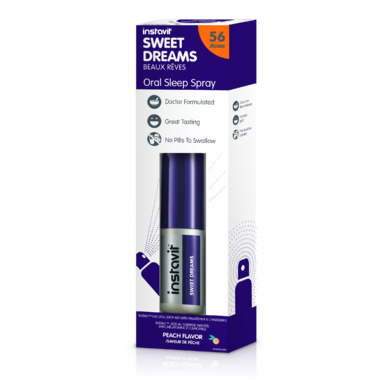 Instavit Sweet Dreams
Spray Sleep Supplement
15 ml
Get your beauty sleep…anytime, any place.
Instavit Sweet Dreams is a doctor formulated natural sleep supplement which utilizes calming chamomile and melatonin to help improve your natural sleep cycle. Whether you are jet lagged or struggling with occasional sleeplessness, this great-tasting, pill-free and pocket-sized spray makes a falling asleep a dream come true with just 2 sprays.
Features:
May help remedy jet-lag and occasional sleeplessness
Zero sugar, zero calorie oral spray supplement
Great taste; contains xylitol
Pure. Potent. Portable.
28 restful nights per bottle.
To use:
Shake well, spray 2 times into your mouth, get ready to sleep.
Medicinal Ingredients:
0.8 mg Melatonin per 2 sprays
Non-medicinal Ingredients:
Purified Water, Xylitol, Glycerin, Natural Flavors, Propylene Glycol, Citric Acid, Potassium Sorbate (Preservative), Sodium Benzoate (Preservative), Xanthan Gum, Modified Acacia Gum and Chamomile Flower.




Dani:
a few months ago
I don't know why this product's melatonin is so much more effective than all the others I've tried, but it really is. It does have chamomile added (watch out those allergic to the daisy family) but I don't think that adds too much to its effectiveness so I have no clue why it works so much better than other brands. I love how it's dosed too. One spray is 0.4mg and perfect for my daughter. Without melatonin, she would lay in bed for hours and think of scary things a child can tend to worry about but now she falls right to sleep as soon as she hits the pillow. For me, I only need 2 sprays, or 0.8mg which is so much less than other brands and is their recommended max dose. The only down side is the high price; but if it helps my daughter sleep without scary thoughts or bad dreams and helps me sleep better, we're prepared to pay extra.
Page
1