Intuition for My Waistline
Lemongrass Lemonade
14 x 20 mL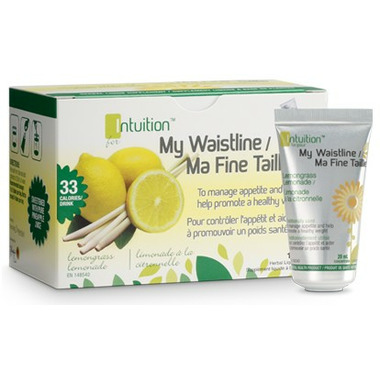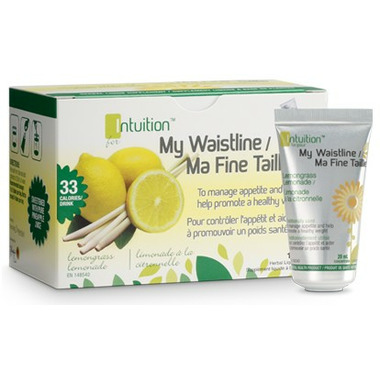 Intuition for My Waistline
Lemongrass Lemonade
14 x 20 mL
- We're sorry, this product is no longer available!
- Shop for other products in: Fresh Starts

Intuition for My Waistline helps you lose that ravenous appetite and lose the temptation!

Features:

Traditionally used to stimulate metabolism, suppress appetite, and facilitate the way the body processes food
An effective liquid herbal concentrate infused with Yerba Mate, Dandelion Root and other appetite suppressing and body cleansing
A natural laxative and detoxifier
Only 33 calories
Drink before meals or when feeling hungry to decrease appetite and to avoid temptation
No added sugar. Sweetened with pure pineapple juice. Gluten Free.


Directions:
Add 1 full tube of Intuition My Waistline to 8 oz. (1 cup) of hot, cold or sparkling water. The flavour is concentrated, so you can use a little more, or less water than suggested to suit your own taste!
Medicinal Ingredients
(Each 20 mL tube contains the equivalent of):
St. John's Wort (Hypericumperforatum) - 150.5 mg flower
Hawthorn (Crataegusoxycantha) - 101.3 mg berries
Bladderwrack (Fucusvesiculosus) - 79mg seaweed
Parsley (Petroselinumsativum) - 79mg root
Yerba Mate (Ilex paraguariensis) - 79mg leaf
Dandelion (Taraxacumofficinalis) - 69.5mg root
Guarana (Paulliniacupana) - 59mg seed
Fennel (Foeniculumvulgare) - 45mg seed
Cascara (Frangulapurshiana) - 40mg bark
Hibiscus (Hibiscus sabdariffa) - 40mg flower
Papaya (Carica papaya) - 40mg leaf
Oat Tops (Avena sativa) - 40mg tops
Black Seed (Nigella sativa) - 33mg seed
Passionflower (Passifloraincarnata) - 33mg flower
Corn Silk (Zeamays) - 31mg strobile
Valerian (Valerianaofficinalis) - 30mg root
Blue Flag (Iris versicolor) - 20mg root
Gymnema (Gymnemasylvestre) - 20mg above ground parts
Cayenne (Capsicum annuum) - 7mg fruit
Non-Medical Ingredients:
Pineapple concentrate
Natural flavour (derived from lemon)
Natural colour
Citric acid (certified organic/non-GMO)
Potassium sorbate (as a preservative)