IronVegan Athlete's Gainer Protein Natural Vanilla
IronVegan Athlete's Gainer Protein Natural Vanilla
IronVegan Athlete's Gainer Protein is an excellent source of dietary protein which helps to build strong muscles and repair body tissues.
Features:
720 calories
42g of protein
1g of sugar
Suggested Use:
Mix 2 scoops with 600 ml of rice or almond milk, or the beverage of your choice. Enjoy any time of day.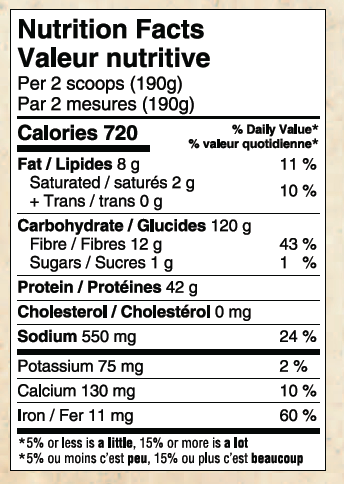 Ingredients:
Pea starch, Fermented pea protein isolate, Organic sprouted brown rice protein concentrate, Brown rice flour, Modified coconut oil, Inulin, Organic spirulina, Organic kale, Organic spinach, Organic coconut oil, Organic sunflower seed oil, Flax seed oil, Organic sprouted amaranth, Organic sprouted quinoa, Organic sprouted millet, Organic sprouted pumpkin seed, Organic kombu, Organic dulse, Organic nori, Tart cherry, Bitter melon, Pineapple, Papaya, Cinnamon, Ginger, Beet root, Xanthan gum, Natural and organic flavours, Organic stevia leaf extract.