IronVegan Sprouted Protein Chocolate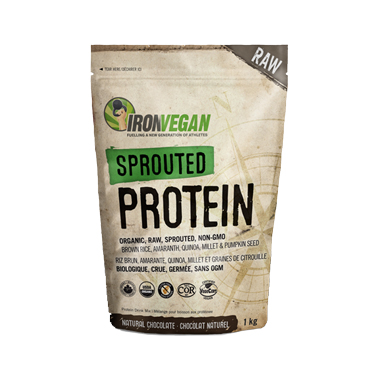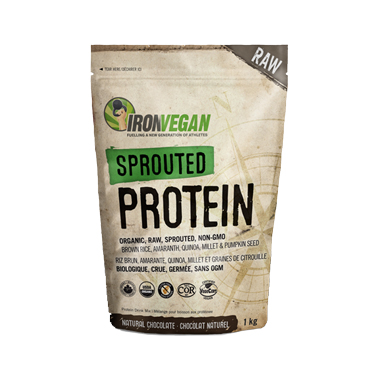 IronVegan Sprouted Protein Chocolate
Iron Vegans are just what you'd imagine. Hard training, contemporary athletes that have embraced the wisdom of a natural plant-based diet. Athletes that look for challenges, have the courage to test their limits, and are committed to choosing their fuel wisely.
Features:
17g of organic plant-based protein per serving
5 Non-GMO, raw, sprouted grains and seeds
Complete profile of essential amino acids
No artificial flavours or colours
Sweetened with organic stevia leaf
Remarkably smooth and creamy taste
Benefits:
All organic ingredients
Family of sprouted proteins
Gluten free & Kosher
84% less packaging
Made in Canada!
Ingredients:
Organic Sprouted Brown Rice Protein, Organic Sprouted Quinoa, Organic Sprouted Amaranth, Organic Sprouted Millet, Organic Sprouted Pumpkin Seed, Organic Fair Trade Cocoa, Natural Chocolate Flavour, Apple Pectin, Xanthan Gum, Organic Stevia Leaf Extract.






Isabelle:
a few months ago
I like as it it all food and not weird supplements incompatible with breastfeeding and pregnancy. I usually dislike stevia but in this it tastes great. I use it in the morning when too busy to eat, gives a boost of protein and keeps me full until lunch. I will buy again for sure!
Kathleen:
a few months ago
I have severe ibs and problems with diarrhea, bloating, gas and pain. I'm also a personal trainer and need supplemental protein in my diet to help keep up energy and muscle mass. Iron Vegan products are the ONLY protein supplement I've found that checks all the boxes - great supply of energy, helps recovery, tastes great, mixes well and does not bother my ibs one bit!! I can't say enough good things. I drink two servings daily! Worth the price and more!
Page
1