Jamieson
Jamieson Digestive Care Daily Fibre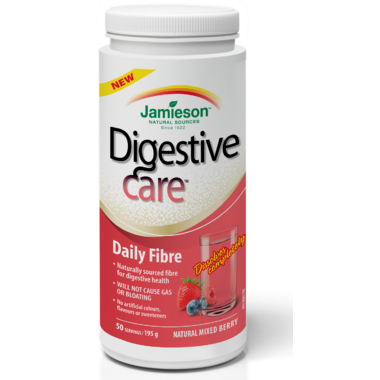 Jamieson
Jamieson Digestive Care Daily Fibre
Description
Jamieson Digestive Care Daily Fibre is the only fibre powder that does not cause gas or bloating*.
It contains no artificial colours, flavours or sweeteners, dissolves completely and has a delicious flavour.
* Well tolerated in terms of GI (gastrointestinal) distress, such as gas, bloating and abdominal pain.
Benefits:
Support and maintain digestive health
Promote, restore, or maintain regularity
Provide gentle relief of constipation and/or irregularity
Directions – Adults: Mix 1 heaping teaspoon (3.9 g) into 240 mL (8 oz.) of water, up to 3 times daily. Store between 15°C and 25°C, away from children.
Each 3.9 g serving contains:

Isomaltooligosaccharides (Zea mays) ... 3.3 g
Providing: Dietary Fibre ... 3 g
Also contains:
Natural mixed berry flavour, stevia, citric acid, natural beet root colour, silica.

WARNING:
Consult a health care practitioner prior to use if you are pregnant or breastfeeding.
NO salt (NaCl), sugar, gluten, lactose, artificial colours, flavours, or sweeteners.
Highlights

Shipping & Returns