Jamieson Multi 100% Complete Vitamin Drink Mix for Women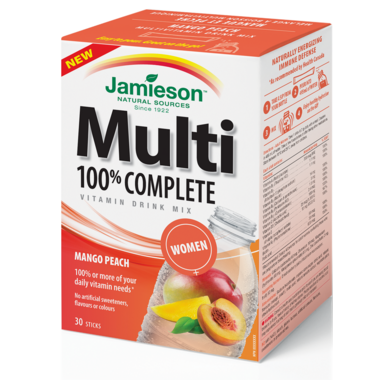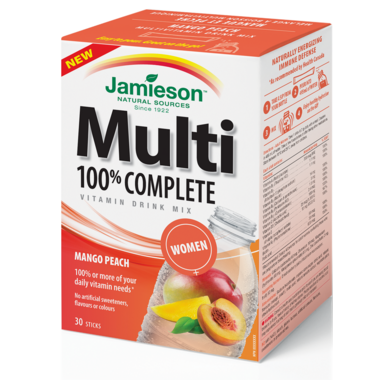 Jamieson Multi 100% Complete Vitamin Drink Mix for Women
Jamieson Multi 100% Complete Vitamin Drink Mix for Women contains 100% or more of your daily required vitamins in 1 powder stick! The multivitamin is formulated in accordance with Health Canada's Recommended Dietary Allowance (RDA) guidelines for daily nutrient and vitamin intake.

Directions – Adults: Take 1 stick (7 g) daily with a meal. Dissolve in 495 mL of water. Take a few hours before or after taking other medications. Store
between 15°C and 25°C, away from children.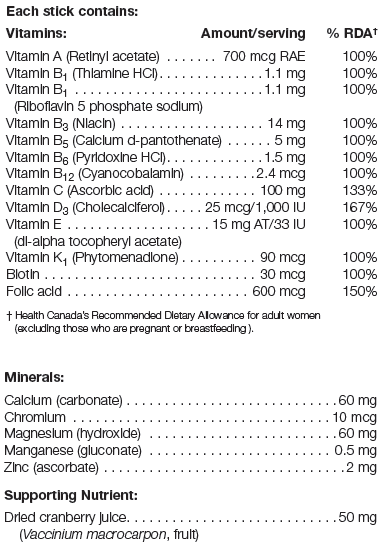 Also contains:
Sodium bicarbonate, organic cane sugar, citric acid, natural flavours (mango, peach), malic acid, natural annatto colour, vegetable juice, stevia leaf extract.
WARNING:
Consult a health care practitioner prior to use if you are taking blood thinners or if you have a history of kidney stones. People sensitive to nicotinic acid may experience flushing of skin that is generally mild and transient.
NO gluten, artificial colours, flavours, sweeteners or preservatives.



Eliz:
about a year ago
I'm really enjoying this product! I was looking for a daily vitamin that was easy to take (if you hate swallowing pills as I do, or want to avoid the chewy sugary vitamins, you'll appreciate this.) and this allows me to get my water intake up as well. I read a few reviews elsewhere and there were some who complained it didn't taste like a fruit juice. (haha!) It's got a little bit of fizz to it and the taste almost reminds me of orange metamucil. It's not a treat, it's a multi vitamin! As long as you don't expect otherwise, I think you'll love it too.
Page
1