Jamieson Power Vitamins for Men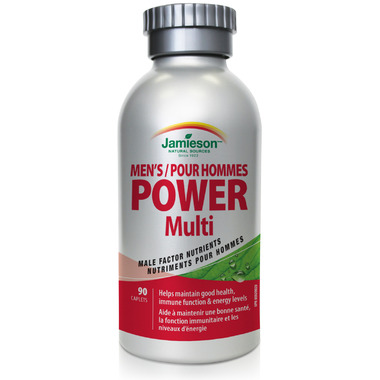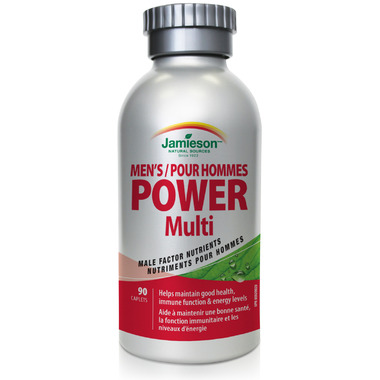 Jamieson Power Vitamins for Men
- We're sorry, this product is no longer available!
- Shop for other products in: For Him

Enhanced with more Vitamin D, Jamieson's Power Vitamins™ for Men is specifically formulated to provide the essential nutrients a man requires to lead an active, energetic and vital life. This supplement is specifically designed to help strengthen the immune system, increase energy levels and enhance mental and physical performance. It also supports the health of nerves, skin, hair, eyes and the liver plus it promotes good muscle tone in the gastrointestinal tract.
Features:
A multivitamin and mineral supplement for the maintenance of good health
Helps maintain optimal health by supporting daily metabolic processes
Supports the immune and cardiovascular system
Provides high amounts of nutrients to enhance physical and mental performance
Directions: Adults: Take 3 caplets daily with a meal. Take a few hours before or after taking other medications. Store between 15°C-25°C, away from children.

Per three caplets:

Vitamins:

Vitamin A (Retinyl acetate)…....2,250 mcg RAE/7,500 IU
Beta-Carotene..……………………………………900 mcg
Vitamin B1 (Thiamine mononitrate) ....... 20 mg
Vitamin B2 (Riboflavin) ....... 20 mg
Vitamin B3 (Niacinamide) ...... 150 mg
Vitamin B5 (Calcium d-panthothenate) ..... 30 mg
Vitamin B6 (Pyridoxine HCl)……………………….20 mg
Vitamin B12 (Cyanocobalamin)…….………………50 mcg
Vitamin C (Ascorbic acid)………………………...200 mg
Vitamin D3 (Cholecalciferol)………...…..25 mcg/1000 IU
Vitamin E ………………………………..20 mg AT/30 IU (d-alpha tocopheryl succinate)
Folate (Folic acid)………………………………. 200 mcg
Inositol ..... 20 mg
Minerals:

Calcium (Carbonate, HVP* chelate) ……………...250 mg
Chromium (HVP* chelate)…………………...…...10 mcg
Iodine (Potassium iodide)……………………….150 mcg
Magnesium (Oxide, HVP* chelate)……………….100 mg
Potassium (Citrate)…………………….……………50 mg
Selenium (HVP* chelate)……...………….……….10 mcg
Zinc (HVP* Chelate) ……………..……….…………5 mg
Supporting Nutrients:

Astragalus (8:1) Extract………………………….6.26 mg (Astragalus membranaceus, root) equivalent to 50 mg raw herb
Borage Oil (Borago officinalis, seed)……………….50 mg
CoEnzyme Q10 (Yeast Fermentation)………………10 mg
Garlic (Allium sativum, bulb)…………………….….80 mg
Ginkgo Biloba (Ginkgo Biloba, leaf)…………………6 mg Standardized to 24% ginkgo flavone glycosides, 6% total terpene lactones
Grape Seed (5:1) Extract (Vitis vinifera, seed)……10 mg equivalent to 50 mg raw herb
Lecithin (Soy oil)…………………………………...10 mg
Lycopene (Lycopersicon esculentum, fruit)………...0.6 mg
Methionine (dl-methionie) .... 2.2 mg
Peppermint (4:1) Extract (Mentha piperita, leaf)…1.26 mg equivalent to 5 mg of Peppermint
Saw Palmetto (4:1) Extract………………………..…6mg (Serenoa repens, fruit)
Siberian Ginseng (45:1) Extract…………………2.22 mg (Eleutherococcus senticosus, root) equivalent to 100 mg of raw herb
* HVP (Hydrolyzed Vegetable Protein)
Also Contains: Cellulose, Modified Cellulose Gum, Vegetable Stearic Acid, Silica, Vegetable Magnesium Stearate, Water-Soluble Cellulose, Titanium Dioxide, Natural Spearmint Flavour, Brazilian Palm Tree Wax, Sunflower Oil, Polydextrose, Purified Magnesium Silicate, Maltodextrin, Medium Chain Triglycerides.