Jamieson Stamina Vitamin & Mineral Energy Lift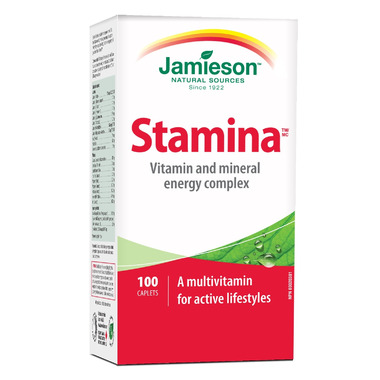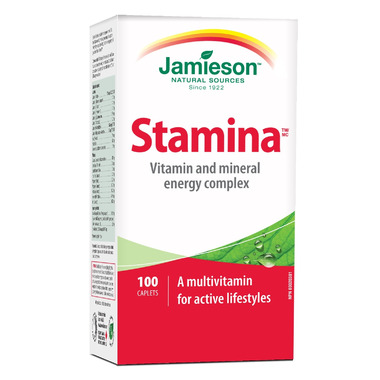 Jamieson Stamina Vitamin & Mineral Energy Lift
- We're sorry, this product is no longer available!
- Shop for other products in: Other Multivitamins

Jamieson Stamina™ is a nutritional energy formula of 11 essential vitamins, and 9 minerals, including the important electrolyte mineral potassium, making it an ideal "Get up and Go" formula for athletes, performers, and active people. It is prepared in a natural source herbal and food nutrient base of Panax Ginseng and Odourless Garlic, ingredients indicated for their immune system enhancing and energy giving properties.
Benefits:

Helps the body to metabolize proteins, fats and carbohydrates
To help improve mental and physical performance
Each caplet contains:
Vitamins: Vitamin A (Retinyl acetate)750 mcg / 2500 IU; Vitamin C (Ascorbic acid)41.7 mg; Vitamin D (Cholecalciferol)1.67 mcg / 66.7 IU; Natural Vitamin E 5.56 mg AT / 8.3 IU (d-alpha tocopherol acetate); Vitamin B1 (Thiamine mononitrate)4.17 mg; Vitamin B2 (Riboflavin)4.17 mg; Vitamin B3 (Niacinamide)63 mg; Pantothenic Acid (Calcium d-pantothenate)10 mg; Vitamin B6 (Pyridoxine HCL)4.17 mg; Vitamin B12 (Cyanocobalamin)16.7 mcg; Folate (Folic acid)67 mcg
Minerals: Calcium (Carbonate and phosphate)200 mg; Chromium (HVP* chelate) 3.3 mcg; Iodine (Potassium iodide)50 mcg; Iron (Ferrous fumarate)3.3 mg; Magnesium (Oxide)33.3 mg; Manganese (Gluconate)1.17 mg; Potassium (Gluconate)16.7 mg; Selenium (HVP* chelate)4.17 mcg; Zinc (Gluconate)1.67 mg

Other Nutrients: Asian Ginseng (3:1) Extract; (Panax ginseng, root)11.8 mg; (Standardized to 4% ginsenosides. Yielding 35.4 mg dried equivalent) Garlic (Allium sativa, bulb)5.9 mg; (Standardized to 0.2% Allicin and 0.44% Allin) * HVP - Hydrolyzed vegetable protein
Excipients: Cellulose, Modified Cellulose Gum, Vegetable Stearic Acid, Vegetable Magnesium Stearate, Silica, Water-Soluble Cellulose, Brazilian Palm Tree Wax.