Jamieson Vitamin B12 Energy Spray
Natural Peppermint Flavour
58 mL (125 Sprays)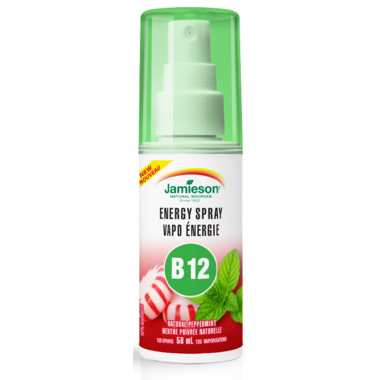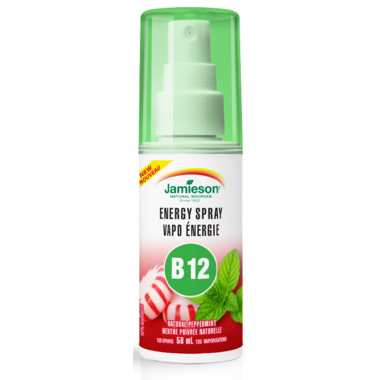 Jamieson Vitamin B12 Energy Spray
Natural Peppermint Flavour
58 mL (125 Sprays)
- We're sorry, this product is no longer available!
- Shop for other products in: Vitamin B

Jamieson Vitamin B12 Peppermint Spray is a delicious and quick way to get 500 mcg of vtamin B12! Formulated with methylcobalamin, an advanced source of B12 that allows for faster absorption, this spray delivers energy naturally, faster! The convenient format is great for life on-the-go and is an excellent alternative for those who have difficulty swallowing or prefer not to swallow capsules or tablets.
Features:
Naturally energizing
Faster acting!
Advanced formula
Great for travel
Adults:
Shake well before use. Spray directly into mouth 1-2 times daily. Store between 15°C – 25°C, away from children.
Active Ingredients:
Vitamin B12 (Methylcobalamin, hydroxocobalamin) 500 mcg
Ingredients:
Purified water, glycerin, natural flavours (peppermint, vanilla), citric acid, potassium sorbate, stevia leaf extract, xanthan gum.
NO salt (NaCl), sugar, starch, gluten, lactose, artificial colours or flavours.
Consumption with alcohol, other medications or natural health products with sedative properties is not recommended. Consult a health care practitioner prior to use if you are taking: anticoagulant, anticonvulsant, blood pressure, immunosuppressive, sedative, hypnotic or psychotropic medications, or steroids; if you have: cardiovascular, chronic kidney, immune system or liver disease, depression and/or related diseases, asthma, diabetes or hypoglycemia, hormonal or seizure disorders, or migraines. Consult a health care practitioner if symptoms persist or worsen or sleeplessness persists continuously for more than 1 month (chronic insomnia). Do not use this product if you are pregnant or breastfeeding. Mild gastrointestinal symptoms (nausea, vomiting, or cramping) and/or rare allergic reactions have been known to occur; in which case, discontinue use.