Jamieson Vitamin K+D 120mcg/1000iu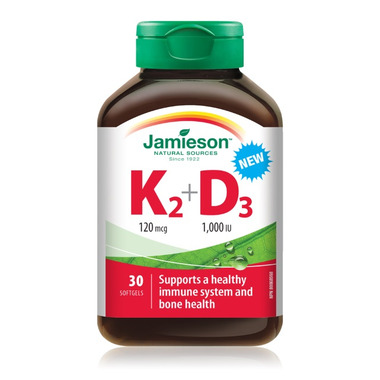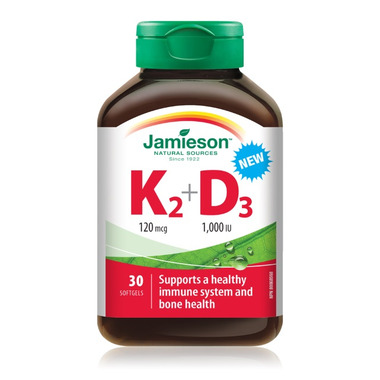 Jamieson Vitamin K+D 120mcg/1000iu
Jamieson Vitamin K + D is great for anyone who suffers from osteoarthritis and supplements with Calcium. Vitamin D helps your bones absorb Calcium immediately and Vitamin K helps keeps Calcium minerals in your bones in the long term.
Features:
Supports a healthy immune system and bone health
Helps keep Calcium in bones and prevents it from leaching into the bloodstream and hardening the blood.
Suggested Use:
Take 1 softgel daily.
Ingredients:
Vitamin K2 120 mcg, Vitamin D3 (Cholecalciferol) 25 mcg/1,000 IU. Sunflower oil, gelatin, glycerin, titanium dioxide. Contains soy ingredients.
NO gluten, lactose, artificial colours or preservatives.
Caution:
Consult a health care practitioner prior to use if you are taking blood thinners.