Jamieson Zinc Lozenges with Vitamin C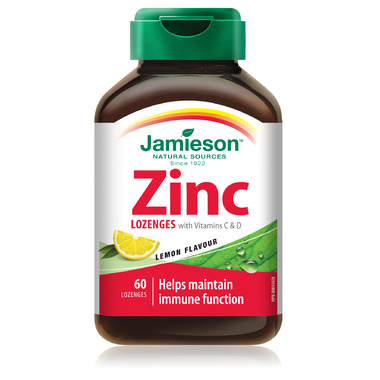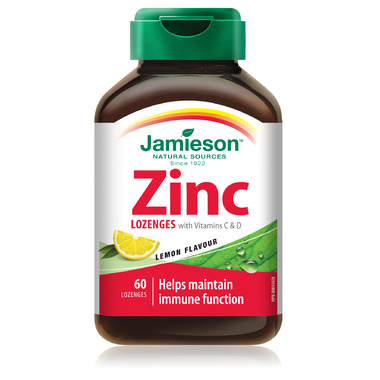 Jamieson Zinc Lozenges with Vitamin C
Natural Lemon
60 Lozenges
Zinc Lozenges with Vitamin C help reducs the duration and severity of the symptoms associated with the common cold.

Jamieson's Zinc Lozenges with Vitamin C provide zinc in the form of zinc citrate, a highly bioavailable form that is readily absorbed by the body. Vitamin C has been added to enhance immune system functioning and restore and maintain optimal health.

Ingredient Information
Zinc (gluconate) 5 mg and Vitamin C (ascorbic acid) 50 mg prepared in a non-medicinal base of anise oil, menthol, camphor and eucalyptus

Sweetened with sorbitol

Natural lemon flavour.
Each lozenge contains:
Zinc (Zinc Gluconate) 5 mg; Vitamin C (Ascorbic Acid)50 mg; Vitamin D3 (Cholecalciferol)2.5 mcg / 100 IU
Excipients: Cellulose, vegetable magnesium stearate, vegetable stearic acid, sorbitol, menthol, natural lemon flavour, eucalyptus, silica, camphor, anise oil.