Josh Rosebrook Active Infusion Serum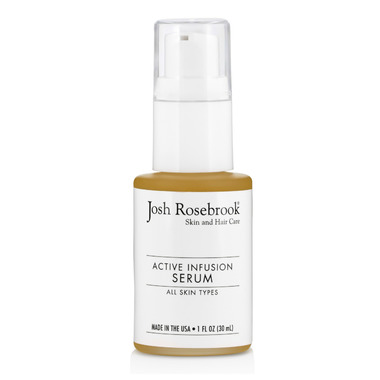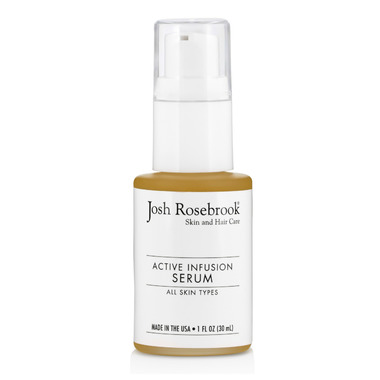 Josh Rosebrook Active Infusion Serum
The Josh Rosebrook Active Infusion Serum is an active, herb-infused serum that penetrates quickly and moisturizes fully to assist and support real skin transformation. Rich fatty acids and vital phytonutrients help calm, nourish, moisturize and repair skin cells through our unique, concentrated plant and herb synergies.
Featured Ingredients:
Marula Oil moisturizes, relieves dryness, softens, and protects
Jojoba Oil intensely moisturizes, treats acne, brightens, and firms
Goji Berry boosts collagen, firms, tightens, protects, and brightens
Black Cohosh soothes, firms, brightens, and promotes cell regeneration
Milk Thistle detoxifies, tones, soothes, facilitates healing and calms.
Elderberry firms, brightens, protects, and promotes cell regeneration.
Tips
: On a clean, dry face Josh Rosebook recommends first misting the Hydrating Acclerator (for added absoprtion and moisturization). While face is still wet, apply 1 pump of the Active Infusion Serum using circular, pressing motions.
Ingredients
: *Avocado Oil, †Marula Oil, *Jojoba Oil, *Hemp Seed Oil, *Sunflower Oil, *Apricot Oil, *Evening Primrose Oil, *Almond Oil, *Grape Seed Oil, *Sea Buckthorn Oil, *Goji Berry, *Raspberry Leaf, *Black Cohosh, *Rose Hips, *Calendula, *Milk Thistle, *Bladderwrack, *Ginger, *Licorice, *Chickweed, *Elderberry, *Marshmallow Root, *Fenugreek, *Cats Claw, *Lavender, *St. Johns Wort, *Cinnamon, *Ginkgo, *Vanilla Extract, †Ylang Ylang Essential Oil, †Rosemary Essential Oil, †Eucalyptus Essential Oil.
*certified organic, †organic