Josh Rosebrook Balance Conditioner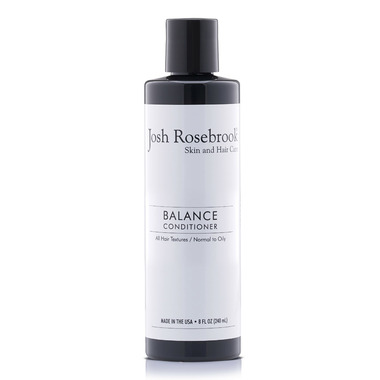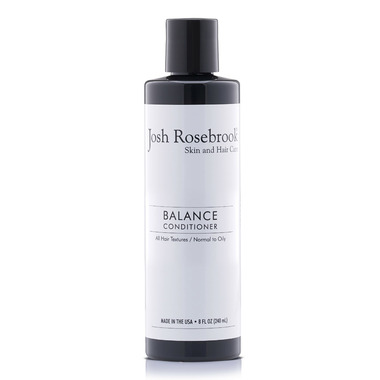 Josh Rosebrook Balance Conditioner
Josh Rosebrook Balance Conditioner is a light, volumizing conditioner formulated for all hair textures with normal to oily scalps. Pure plant oils and active herbal infusions work in harmony to effectively soften and increase volume. Aloe vera and rich fatty acids seal in moisture, smooth, add shine and protect the hair shaft, scalp and follicle.
Featured Ingredients:
Camellia Seed Oil moisturizes, softens hair, adds shine, strengthens hair growth, and reduces frizz
Hemp Seed Oil moisturizes, treats dry scalp, protects, assists hydration, adds shine, reduces frizz, and strengthens hair growth.
Evening Primrose Oil treats scalp conditions, soothes and calms scalp, moisturizes, and encourages hair growth
Grape Seed Oil balances moisture level, strengthen brittle hair, encourages elasticity, adds shine, softens, and reduces frizz
Rosemary slows grey hair growth, treats dandruff and scalp conditions, increases scalp and follicle circulation.
Tips
: Use as needed. Focus the product on midshaft to ends. Leave product in 2-4 minutes to penetrate hair shaft.
Ingredients
: *Aloe Vera Leaf Juice, Aqua, *Coconut Oil, *Camelina Oil, *Meadowfoam Seed Oil, *Olive Oil, *Hemp Seed Oil, *Shea Butter, *Vegetable Glycerin, *Rosemary leaf, *Calendula, *Nettle, *Catnip, *Alfalfa, *Rose Hips, *Flax, *Dandelion, *Linden flowers, *Burdock, *Horsetail, *Sage, *Chamomile, *Ginseng, *Oregano, *Thyme, *Lavender, *Peppermint, *Goldenseal, *Cinnamon, *Cayenne, †Sustainably Sourced Palm Kernel extract, *Vitamin E, *Vitamin A, *Vitamin B, *Guar Gum, §Xanthan Gum, §Potassium Sorbate,*Vinegar, †Litsea Cubeba Essential Oil, †Rose Essential oil, †Rosemary Essential Oil, †Orange Essential Oil.
*certified organic, †organic, ‡wildcrafted, §non-gmo plant sourced
Brooke:
a few months ago
This product is amazing! I honestly can't say enough. My hair was a mess, I had tried a dozen salon quality, high-end hair masks - none of them came even close to this product. My hair was literally break off my head and after one bottle of this conditioner it was soft and silky. The price through me a bit, but it lasts so long, and WORKS SO WELL, that it worth it. You need to buy this conditioner.
Page
1