Josh Rosebrook Cacao Antioxidant Mask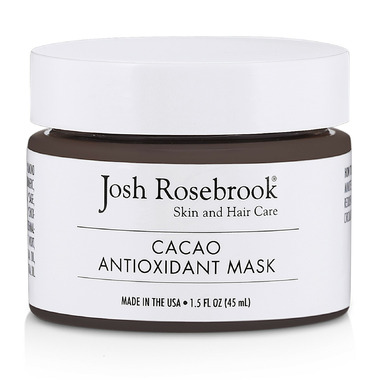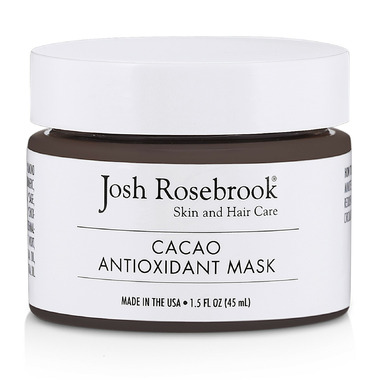 Josh Rosebrook Cacao Antioxidant Mask
The Josh Rosebrook Cacao Antioxidant Mask is an activating facial treatment that works to detoxify, rejuvenate and clear skin through powerful antioxidant and phytonutrient plant properties. Rich cacao helps slow skin cell decline and assists in collagen production to increase elasticity and luminosity. Cacao effectively stimulates and triggers circulation, which assists in nutrient delivery and supports the skin's natural healing ability. Potent plant oils support skin to calm, nourish and maintain hydration in the skin.
Featured Ingredients:
Cacao stimulates circulation, firms, plumps, brightens, and protects
Marula oil moisturizes, softens, firms, and treats skin conditions
Alfalfa calms, reduces redness, soothes, softens, and brightens
Sage balances oil and hormones, heals, calms, and treats acne
Ginko brightens, reduces redness, increases circulation, and firms
Tips
: Apply quickly and evenly. Allow to dry for up to 45 minutes, then rinse & towel dry. Slightly reddish skin for 30-45 minutes after application indicates the desired increased blood circulation.
Ingredients
:Vitamin Infused Water, *Cacao, *Witch Hazel, *Vinegar, *Almond Oil, †Marula Oil, *Baobab Oil, *Grape Seed Oil, *Rose Petal, *Turmeric, *Goji Berry, *Dandelion, *Eyebright, *Rosemary, *Ashwagandha, *Sage, *Beetroot, *Alfalfa, *Black Cohosh, *Raspberry Leaf, *Elderberry, *Chickweed, *Calendula, *Rose Hip, *Hawthorn Berry, *Ginkgo, *Cinnamon, *Marshmallow Root, *Bladderwrack, *Ginger, *Milk Thistle, *St. John's Wort, *Cat's Claw, *Licorice, *Lavender, *Fenugreek, †Orange Essential Oil,†Lavender Essential Oil, †Rosemary Essential Oil, †Calendula Essential Oil.
*certified organic, †organic