Josh Rosebrook Enrich Intensive Hair Mask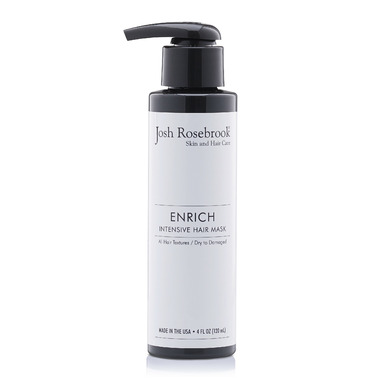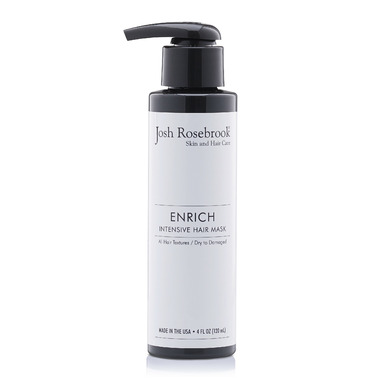 Josh Rosebrook Enrich Intensive Hair Mask
Josh Rosebrook Enrich is an intensive hair conditioning mask blending the most exotic, beneficial oils proven for hair revitalization. Enrich works to significantly improve dry, damaged and brittle hair. Precise amounts of fatty acid-rich plant oils, such as African Marula, Baobab and Argan, and potent active herbal infusions create a powerful synergy to dramatically soften, restore shine, elasticity, and manageability without weighing hair down.
Featured Ingredients:
African Baobab strengthens hair, adds shine, increases elasticity, treats dandruff, treats dry scalp, and helps reduce breakage
Tahitian Tamanu restores hair structure, softens, adds shine, moisturizes, and protects
Argan smoothes cuticles, reduces appearance of damage, moisturizes, improves elasticity, adds shine and softens
Rosemary, Amla, Fenugreek, Ginseng, Rose Hips, Gotu Kola and other phytochemical rich herbs soften, deliver shine and protection while supporting scalp health and follicle stimulation, encouraging long term, strong hair growth.
Tips
: Gently squeeze excess water from clean hair and apply generously from base to ends. For quick hydration, leave in for 5-10 minutes and rinse. For deeper hydration, leave in wrapped hair for an hour and rinse or leave in wrapped hair while under heat for 20 minutes and rinse. Use Enrich 2-3 times a week or when needed.
Ingredients
: *Aloe Vera Leaf Juice, *Shea Butter, †Marula Seed Oil, *Jojoba Oil, * Coconut Oil, *Baobab Oil, *Apricot Kernel Oil, *Grape Seed Oil, *Meadowfoam Seed Oil, *Tamanu Seed Oil, *Hemp Seed Oil, *Argan Seed Oil, *Evening Primrose Oil, *Rosemary, *Indian Gooseberry, *Burdock, *Calendula, *Linden Flowers, *Bhringraj, *Nettle, *Fenugreek, *Catnip, *Ginseng, *Peppermint, *Chamomile, *Sage, *Alfalfa, *Rose Hips, *Flax Seed, *Dandelion, *Ginger, *Gotu Kola, *Yucca, Sustainably Sourced Certified Palm Kernel Extract, *Sea Buckthorn Oil, *Vinegar, §Potassium Sorbate, §Xanthan Gum, †Orange Essential Oil, †Lemon Essential Oil, †Lime Essential Oil, ‡Cacao Absolute.
*certified organic, †organic, ‡wildcrafted, §non-gmo plant sourced