Josh Rosebrook Herbal Infusion Oil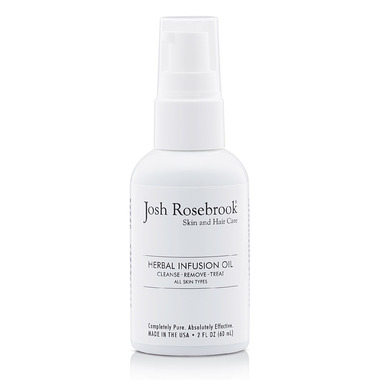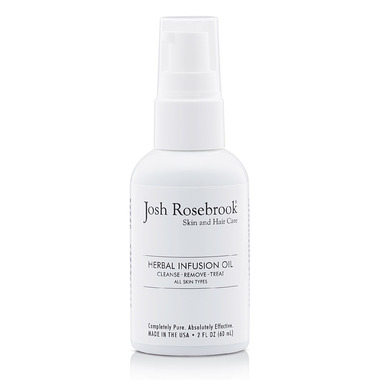 Josh Rosebrook Herbal Infusion Oil
The Josh Rosebrook Herbal Infusion Oil is a dynamic 3-in-1 herbal oil cleanser, make up remover and facial moisturizing treatment. Rich plant oils and active herbal infusions create a potent synergy that effectively cleanses, detoxifies and treats all skin types including sensitive and blemish prone skin. Effortlessly remove foundation, mascara, eye liner and all makeup without irritation or redness.
This light, unique formula releases vital plant antioxidants, anti-inflammatories, and antibacterial agents to balance oil production, clear dirt and toxins and effectively firm, brighten and moisturize skin. Phytonutrient-dense herbal infusions reset the skin's natural healing ability, and seal in moisture, reinforcing the skin natural protective barrier.
Featured Ingredients:
Sunflower Oil clears pores, treats acne, firms, balances oil production, and intensely moisturizes
Slippery Elm calms, reduces redness, softens, and facilitates healing
Bilberry detoxifies, brightens, boosts collagen, firms, and increases elasticity
Chickweed reduces fine lines, brightens, repairs cells, and protects
Ginkgo Leaf brightens, reduces redness, increases circulation, and firms
Tips
: To cleanse and remove makeup massage over entire face then firmly press soft dry cloth over face. To treat and moisturize, mist Hydrating Accelerator then immediately apply a small amount of Herbal Infusion Oil over face and neck.
Ingredients
:*Olive Oil, *Jojoba Oil, *Sunflower Oil, *Grape Seed Oil, *Sesame Oil, *Apricot Oil, *Almond Oil, *Calendula, *Slippery Elm, *Marshmallow Root, *Bilberry, *Neem, *Alfalfa, *Skullcap, *Fennel, *Chickweed, *Ginkgo, *Hawthorn Berry, *Green Tea, †Rosewood Essential Oil, †Damask Rose Essential Oil, †Rose Geranium Essential Oil.
*certified organic, †organic