Josh Rosebrook Nutrient Day Cream SPF 30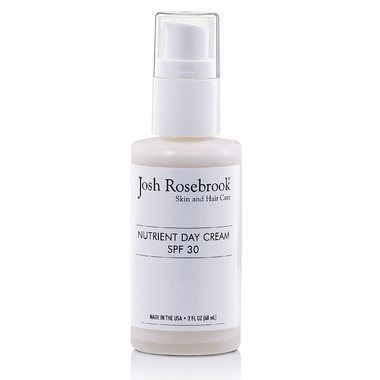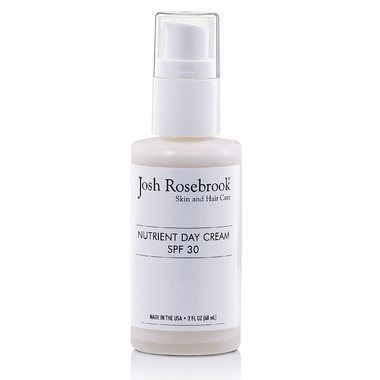 Josh Rosebrook Nutrient Day Cream SPF 30
The Josh Rosebrook Nutirent Day Cream SPF 30 is a dual-action day cream, that performs as a regenerating moisturizer and a natural, broad spectrum sunscreen. It delivers a potent combination of herbals and plant oils to repair, moisturize and protect skin. These unique synergies release skin transforming anti-inflammatories, antioxidants, fatty acids and phytonutrients that are proven to firm, reduce redness, and assist the skin in regeneration. This luxurious, lightweight SPF cream finishes matte, smooth and comfortable without a white cast. A high-quality, uncoated, non-nano, high-micron zinc oxide provides effective protection against skin damaging solar rays.
Featured Ingredients:
Hemp moisturizes, treats acne, brightens, reduces dark/age spots, and balances oil production
Borage slows moisture loss, soothes, reduces redness, reduces fine line, and repairs cells
Sea Buckthorn moisturizes, calms, repairs cells, and treats acne
Sage treats dryness, improves circulation, reduces redness, and calms
Burdock strengthens cell tissue, brightens, firms, and balances hormones
Tips
: For proper coverage and protection apply 3 pumps directly to face. Josh Rosebrook recommends first misting the Hydrating Accelerator and then patting the cream on face and neck for added absorption. Re-apply every 2 hours and after perspiration.
Active Ingredient:
12% Non-Nano, Uncoated, Micronized Zinc Oxide. (Zinc Oxide is scientifically proven to help protect against UVA and UVB rays and is an approved broad spectrum sunblock by the FDA and EU. This Nutrient Day Cream SPF 30 has been thoroughly screened and tested and approved as High SPF 30 and Broad Spectrum by an FDA Registered, California State Certified Laboratory in accordance with FDA regulation.)