Julian Bakery Instaketones Powder Orange Burst
Caffeine Free
525g (30 Servings)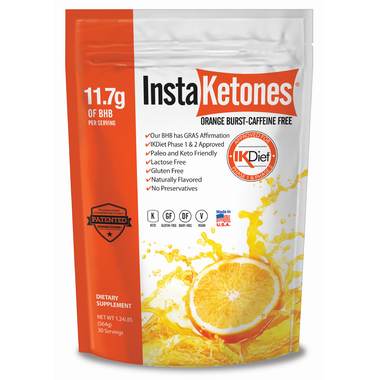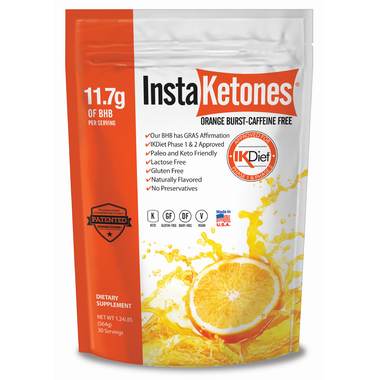 Julian Bakery Instaketones Powder Orange Burst
Caffeine Free
525g (30 Servings)
How often is it that we see a truly new product in the supplement industry? Most are simply rehashes of supplements we have all seen before. InstaKetones is a novel and innovative product born out of ketogenic research. InstaKetones is a source of ketones, which act as the fuel your body uses and prefers when you go into a ketogenic state. And now you don't have to be in a ketogenic state to benefit from the power of ketones. InstaKetones is a readily available source of this amazing fuel.
Ketone bodies (ketones) are energy sources that are produced and burned under special metabolic conditions such as starvation and high fat consumption (ketogenic diets). Ketones are a super fuel that can be efficiently used by the muscles and the brain, where they generate more energy (ATP) per unit of oxygen consumed than do carbohydrates, protein, or fat.
InstaKetones contains 11.7 grams of the ketone body Beta-Hydroxybutyrate (BHB) per serving (Max Amount Of Ketones The Human Body Can Uptake Per Serving) in a delicious orange flavored base. It contains no artificial sweeteners, flavorings or colors. Consuming InstaKetones before exercise can result in significant increases in oxygen demand and performance. InstaKetones may also heighten mental acuity and performance.
InstaKetones is excellent for ketogenic dieters who need energy but must limit carbohydrate intake. InstaKetones may also be used by individuals who consume carbohydrates to provide an additional energy source, and limit exercise-induced glycogen depletion. It may also be used to ease the transition into a ketogenic state. It may help alleviate the fatigue and lethargy some experience while making the transition from a glucose-dominant to a ketone metabolism.
For best results, InstaKetones should be stirred vigorously into 8 ounces of cold water until dissolved. InstaKetones can be combined with pure Caprylic Acid (From MCT Oil) for an even greater effect.

Features:
11.7g BHB Per Scoop (Measurable Blood Ketones In 45 Min Or Less) (30 Servings without caffeine)

Burn Stored Fat As Energy + Infused w/ Organic Caffeine 100mg & One Non-Caffeine Bag
Curing Hangovers, Mental Clarity, Orange Tart Taste (Kind Of Salty) IKDiet Compliant
Messing Up With A Cheat Meal This Puts You Back Into Keto (Value Pack Savings)
Delicious Orange Citrus Taste (Easy To Mix) (30 Servings Total) 1.16lbs of Non-Caffeine
Ingredients:
Beta Hydroxybutyrate, Amino Acid Blend, (L-Taurine, L-Tyrosine, L-Luecine), Calcium, Sodium, Citric Acid, Orange Extract, Lou Han Guo Extract (Monk Fruit).