Julian Bakery Vanilla Cinnamon Twist Pegan Protein Bar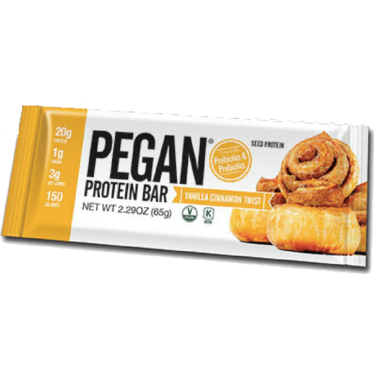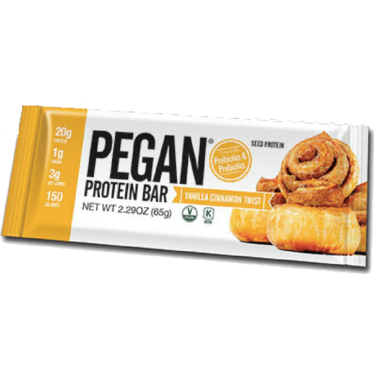 Julian Bakery Vanilla Cinnamon Twist Pegan Protein Bar
This yummy bar packs 20g certified organic seed protein from organic Pumpkin Seeds that have a complete amino acid profile ideal for building lean muscle or aiding in your weight loss or maintenance goal in conjunction with exercise.
This Pegan® Protein Bar has a delicious vanilla cinnamon taste with only 150 Calories, and 3 Net Carbs (Almost All Carbs Are From Prebiotic Fiber That Curb Appetite Without Bloating) No Added Sugar Sweetened w/Monk Fruit and contains no sugar alcohols, corn, dairy or any junk. Every ingredient was hand picked to promote optimal health while still tasting amazing. The other amazing benefit of this bar is the organic protein source we use is a complete protein that aids in building lean, hard, defined muscle as it contains all the proper amino acids your muscles need.
Features:
20g Organic Seed Protein (Vegan) No Added Sugar 1g (Monk Fruit Sweetened)
1 Bar= 190 Calories, Complete Protein Meal Replacement (Rich Chocolate Taste)
Organic Prebiotics+ Probiotics Improves Digestion, Curbs Appetite Up To 4 /hrs)(GMO/Soy Free)
New Stay Fresh Techonology Preserves Bars Up To 18 Months (Low Water Activity)
Made In A Dedicated Gluten Free Facility (1 Net Carb) Kids & Adults Love!
Ingredients:
Organic Pumpkin Seed Protein (Seed Protein), Organic Digestive Resistant Prebiotic Fiber (From Organic Tapioca) (Non-IMO), Organic Sunflower Seed Butter, Organic Unrefined Virgin Coconut Oil, Vanilla Extract, Cinnamon (Ceylon), Monk Fruit (Lou Han Guo), Produra (ProBiotic).