Kanga Care Lil Learnerz tokiCorno & Sherbert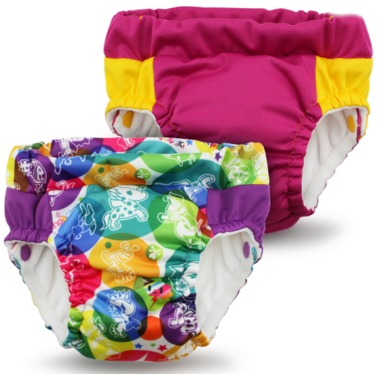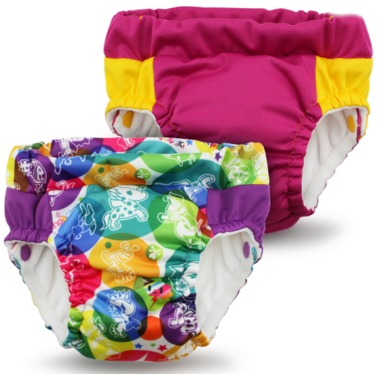 Kanga Care Lil Learnerz tokiCorno & Sherbert
Lil Learnerz are here to help your toddler hit the next milestone - potty training! When your little one is ready to leave the diapers behind but still needs help and protection, Lil Learnerz will become that essential aid. Lil Learnerz look like big kid underwear and come in multiple fun prints and vibrant color combinations. Lil Learnerz are made with IMWET TECHNOLOGY™! This feature lets your toddler feel wet when they have had an accident. This helps them learn more about their body and aids in the potty learning process. Lil Learnerz are breathable and soft with a hypoallergenic layer that rests against your child's skin. Lil Learnerz are also waterproof and can hold a heavy accident with no trouble. The inside is made up of an absorbent, dual layer, microfiber core. Lil Learnerz are easy to pull up and down by your little learner! Just like real underwear! Lil Learnerz are available in five sizes ranging from Extra Small to Extra Large. The Extra Small and Small sizes also feature side snapping release panels for easy-off in case of accidents with early learners.
Features:
Waterproof outside
Hypoallergenic inner
2 layers of absorbency
IMWET Technology lets child feel we and learn their own body signals while Lil Learnerz training pants keeps accidents from leaking.
Sizes X-Small & Small have side-snap release panels for ease with accidents and early learners
Size Medium, Large, and X-Large are Pull-up style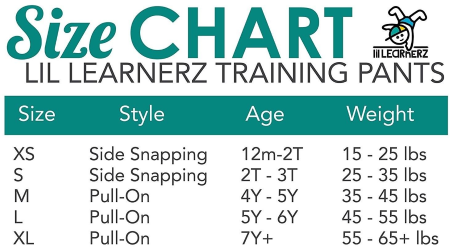 Catherine:
a few months ago
Love the product, well made, but size chart is off. My 3 year old is very slim, weights 33 lbs, average height, so I picked size Medium (range advertised is 35-45lbs) thinking this will last her a while. These are way too tight, I can barely pull them on and off and they leave dents in her skin at the waist after only a few minutes. Very sad because due to the nature of this item, I can't return them...:-( Otherwise, they are super cute and soft - now to decide if I spend more to get the bigger size... Looks like a good product, but I suggest sizing up, especially if your child has any hips at all.
Page
1