Kapok Naturals Lucuma Powder Raw Pervian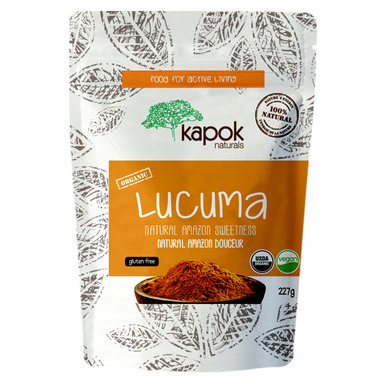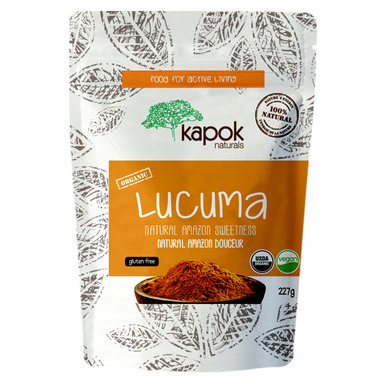 Kapok Naturals Lucuma Powder Raw Pervian
- We're sorry, this product is no longer available!
- Shop for other products in: More Herbal Formulas

Known as the golden fruit of the Amazon, Lucuma is an anti-inflammatory, anti-viral, anti-bacterial superfood that contains beta carotene, iron, zinc, vitamin B3, calcium, and protein.
Across Peru it's known to be the most popular flavor of ice cream – it's delicious! Lucuma is used as a natural low-glycemic sweetener, it's rich in anti-oxidants, and recent studies find the fruit to have anti-aging qualities and wound healing abilities.
Kapok's dehydrates the organic fruit and stone grinds it raw into a delicious powder for enjoyment. This sweetness from nature adds a maple flavor burst when you add a teaspoon or tablespoon to many of your favorite treats like ice creams, yogurts, and desserts.
Carefully stone ground in Peru, it is a high source of protein, fiber, dietary fat, minerals and vitamins. Containing all 8 essential amino acids, our Quinoa flour is a complete protein and a great source of nutrition.
Features:
Organic Lucuma Powder - USDA Certified
Raw, pure, all-natural, vegan, gluten-free, allergen free and non-GMO
Natural source of antioxidants, dietary fiber, healthy carbohydrates, vitamins, beta-carotene, and minerals including iron
Delicious and a great addition to any healthy and active lifestyle.
Ingredients:

Organic Lucuma Powder, Allergen-Free

Natural, Organic, Vegan, Gluten-Free, Sugar Free, Kosher, Non-GMO, Dairy Free, Peanut Free, Tree Nut Free Facility