Kidsme Food Feeder Starter Kit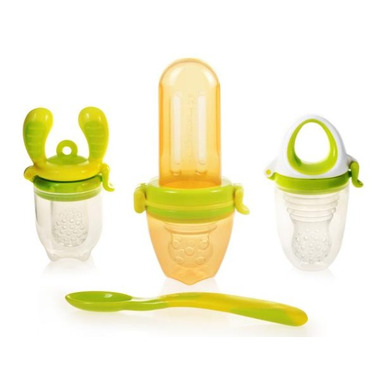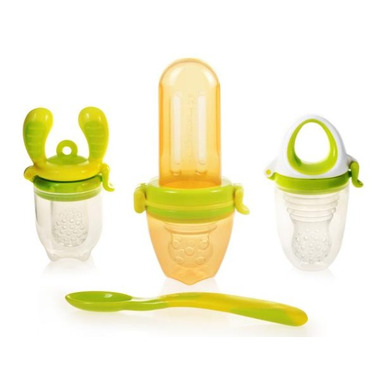 Kidsme Food Feeder Starter Kit
The Food Feeder Starter Kit consists of a Food Feeder, a Food Squeezer, a Food Feeder Plus and a Spoon. All of these items fit within a compact case. The kidsme Food Feeder allows baby to proactively self-feed and the Food Feeder Plus and Food Squeezer allow to satisfy baby's growing appetite.
Features:
Encourages self-feeding
Unique silicone sac minimizes choking hazards
Increasing Food Feeder sizes allows to satisfy baby's appetite as it grows
Food Feeder
kidsme Food Feeder allows babies to taste solid food at an earlier age. This will help them get a head start on incorporating important vitamins and minerals into their diet. With the Food Feeder, little ones can easily and safely enjoy a variety of foods, so mealtimes can be a positive experience.

Food Feeder Plus
The award winning Food Feeder Plus features a larger, flexible silicone sac to satisfy a baby's growing appetite. With the Food Feeder Plus enhanced ergonomic design, and larger feeding sac, your child can safely and independently explore new tastes and textures. All of this will help give your child a head start toward a lifetime of healthy eating.

Food Squeezer
The award winning kidsme Food Squeezer, with unique holes in the silicone sacs, is designed to encourage your baby to feed itself semi-liquid or liquid food supplements such as rice cereal and porridge. In combination with the Food Feeder and Food Feeder Plus, your baby can develop a rich palate and receive the benefits of healthy eating fresh food.