Kinnikinnick Graham Style Crumbs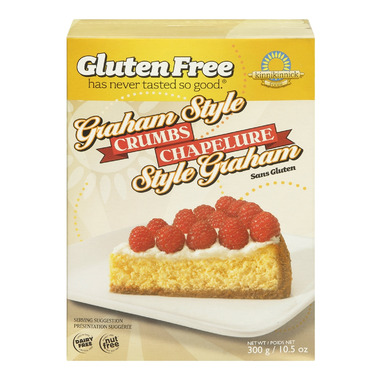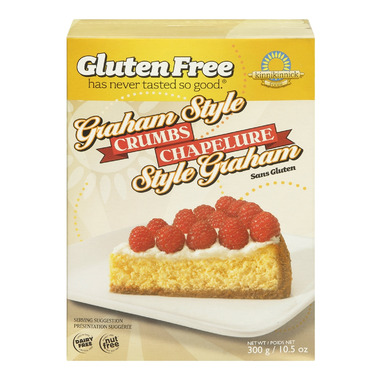 Kinnikinnick Graham Style Crumbs
Just the solution for a gluten free pie crust, ice cream topping or cheese cake.
Features:
Free of wheat
Free of dairy
Free of nuts
Free of yeast
Free of eggs
Recipe for a 9" pie crust:
Mix 1 1/2 cup Graham style Cracker Crumbs with 1/4 cup soft butter or margarine and 2 Tbsp brown or white sugar. Press into 9" pie plate and chill. Fill as desired.
Ingredients:
Pea Starch, non Hydrogenated Shortening(Palm Fruit and/or Canola), Potato Starch, Brown Rice Flour, Brown Sugar, Sweet Rice Flour, Tapioca Starch, Water, Rice Bran, Sugar, Blackstrap Molasses, Honey, Glucose, Salt, Sodium Bicarbonate, Pea Protein, Vanilla, Sodium Carboxy Methylcellulose, Pea Fibre, Guar Gum, Inulin, Soy Lecithin, Mono Calcium Phosphate. May contain egg.