Kinnikinnick KinniTOOS Chocolate Vanilla Sandwich Cookies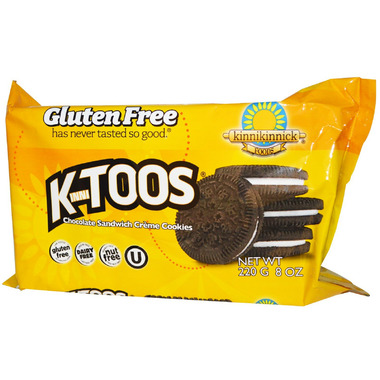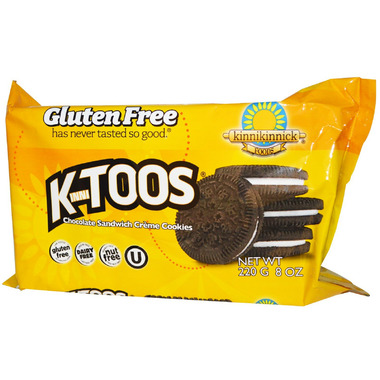 Kinnikinnick KinniTOOS Chocolate Vanilla Sandwich Cookies
A gluten-free and dairy-free diet doesn't mean that you have to give up the delicious taste of classic chocolate and vanilla sandwich cookies. Grab a cold glass of milk and decide. Will you eat the center first?
Features:
Free of wheat
Free of dairy
Free of nuts
Free of yeast

Ingredients:
Icing (icing sugar (powdered sugar, cornstarch), non-hydrogenated shortening (palm oil and/or canola oil), vanilla extract,
soy
lecithin, salt), Sugar, Pea Starch, Potato Starch, Non-Hydrogenated Palm Oil Shortening (palm oil, modified palm oil), White Rice Flour, Dutch Cocoa Powder, Water, Tapioca Starch, Glucose, Pea Protein, Salt, Cellulose, Pea Fibre, Pure Vanilla Extract, Caramel (colour), Inulin, Baking Soda,
Soy
Lecithin.
May contain traces of eggs, processed on the same equipment as eggs.