Klean Kanteen Millenial Hearts Kid Classic Sippy + Loop Cap Bundle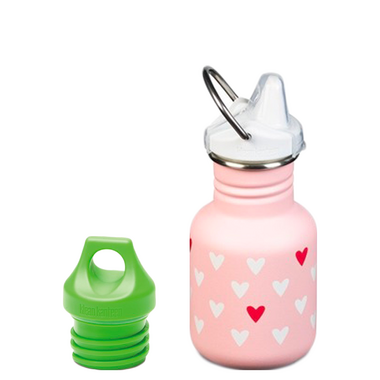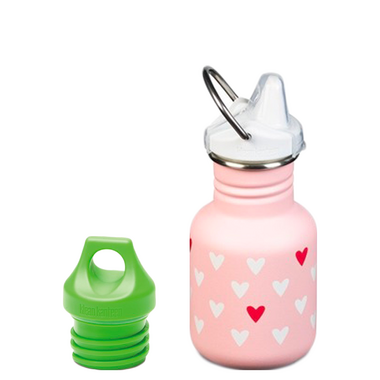 Klean Kanteen Millenial Hearts Kid Classic Sippy + Loop Cap Bundle
Two caps are better than one! The Klean Kanteen Millenial Hearts Kid Classic Sippy + Loop Cap Bundle has you and your little one covered for when they're ready to transition from sippy cup to water bottle!
Bundle Includes:
Klean Kanteen Kid Classic with Kid Sippy Cap - Millenial Hearts - 12 oz
Klean Kanteen Kid Loop Cap - Green
Klean Kanteen Kid Classic with Kid Sippy Cap Details:
The Kid Classic 12oz Sippy was designed for babies 6+ months to toddlers. Light weight single wall design and small form is easy for little hands to hold. New stainless steel bale swivels for easy carrying or clipping to a bag or stroller. Klean Coat powder coat finish is 4x more durable, chip-resistant and safe for people and planet. Producing the safest most environmentally friendly products is Klean Kanteen's top priority.

Klean Kanteen Kid Loop Cap Details:
Appreciate simplicity and function? Meet the leakproof Kid Loop Cap. We recommend using this cap to transport your drinks safely without drips. Using the handy attachment loop, clip your Kanteen to just about anything. Made from polypropylene (pp#5), which contains no BPA or toxins. Compatible with Classic Klean Kanteens and only.
Features
:
Handy attachment loop
Cap is leakproof
Dishwasher safe
Compatible with Classic Klean Kanteens only
Dimensions
:
Weight: 1 ounce (28.3 g)
Size: 2.75" H x 2" W (69.9 mm H x 50.8 mm W)
Leakproof: Yes