Stevia Sweetened Juice Crystals
60 g (30 x 2g packets)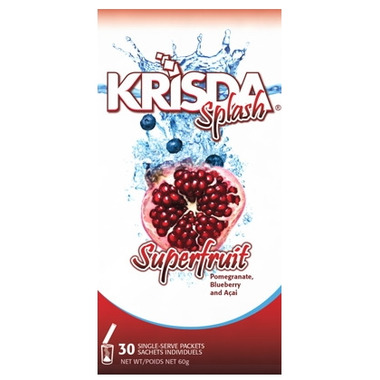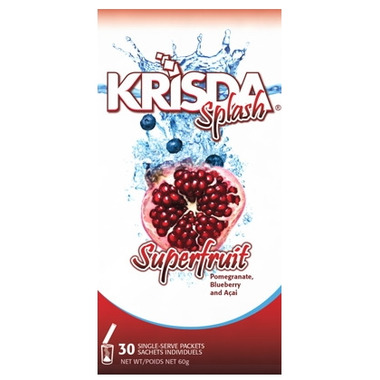 Krisda Splash Superfruit
Stevia Sweetened Juice Crystals
60 g (30 x 2g packets)
- We're sorry, this product is no longer available!
- Shop for other products in: Water Enhancers

Just when we you thought that life was full of sugary juice crystals and it was too late to fill your water bottle with anything healthy (or give the kids anything remotely healthy) Krisda comes along and breaks the rules again!

Krisda Splash is a new and super delicious stevia sweetened water enhancer (which is "fancy talk" for juice crystals). But Krisda doesn't just stop there. It's 100% sugar free, all–natural, zero calorie, vitamin-enriched with A,C and E and made with real fruit extract. Most importantly, it is superbly wonderful (which is also "fancy words" for OMG, this stuff rocks!).

Medicinal Ingredients: Vitamin A 200 MCG RAE, Vitamin C 12 MG ,Vitamin E 2.7 MG AT.
Non-Medicinal Ingredients: Inulin, Erythritol, Stevia leaf extract, Natural fruit extract and Natural flavour.