Kyolic Kyo-Dophilus with Digestive Enzymes
Heat Stable - Great for Travel
30 Capsules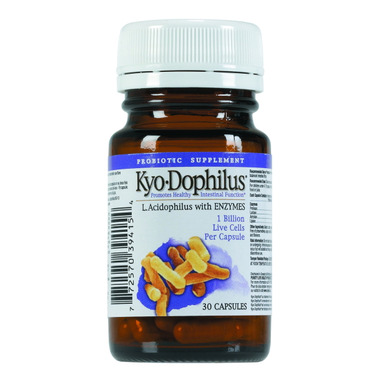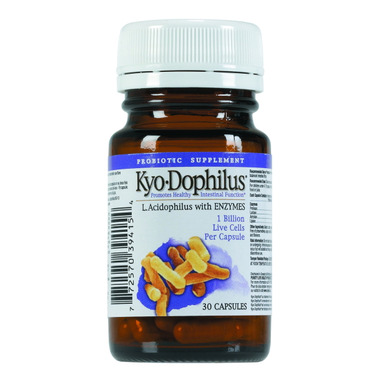 Kyolic Kyo-Dophilus with Digestive Enzymes
Heat Stable - Great for Travel
30 Capsules
- We're sorry, this product is no longer available!
- Shop for other products in: Probiotics

Friendly bacteria in our intestines keep harmful ones from multiplying and wreaking havoc. Prescription antibiotics and poor food habits may kill off these little friends and allow harmful yeast and other creatures to multiply out of control, with negative effects such as gas, diarrhea, and other gastro-intestinal problems.

Digestive enzymes are proteins tailored to break down foods into nutrients that your body can then readily digest. When you eat a meal, digestive enzymes that are released from your body and the foods you eat get to work to speed up the digestive process. It is common for people to be lacking enzymes because of inadequate diets, over-refined foods, environmental toxins, and poor health. Supplementation with Enzymes may be ideal for people who have digestive concerns with symptoms such as - heartburn, gas, bloating, flatulence, diarrhea and constipation or other symptoms such as, headaches, stomach ache, chronic fatigue, yeast infections, nutritional deficiencies and allergies. These enzymes will help digest protein, fat, carbohydrates and may lessen troubling symptoms.

KYO-DOPHILUS with ENZYMES provides a replacement for lost friendly bacteria, a preventive measure against their loss and an extra source of valuable digestive enzymes that will assist your body in healthy digestion. KYO-DOPHILUS with ENZYMES combines the most important friendly bacteria whose cloning began over 70 years ago with a proven and well balanced enzyme complex. KYO-DOPHILUS is used in over 30,000 hospitals and 100 university research centers.

Unlike other brands of friendly bacteria, KYO-DOPHILUS is heat-stable. Other brands are not temperature-stable, and die very quickly at room temperature. Most un-refrigerated brands available in stores test out to have a very low count of viable bacteria. KYO-DOPHILUS alone maintains its potency without refrigeration.

KYO-DOPHILUS is strong enough to survive gastric acidity.

NUTRIENT POTENCY: Temperature-stable, friendly bacteria 1 billion cells and Enzyme complex of Protease 70 mg, Lactase 35mg, Amylase 25mg, Lipase 25mg

DIRECTIONS FOR USE: Adults take one capsule (1/2 capsule for children under four) with a meal, twice daily. Store in a cool, dry place with cap tight. Keep out of reach of children.
Note: Free of preservatives, sugar, sodium, milk derivatives, yeast, gluten, artificial colours and flavours.