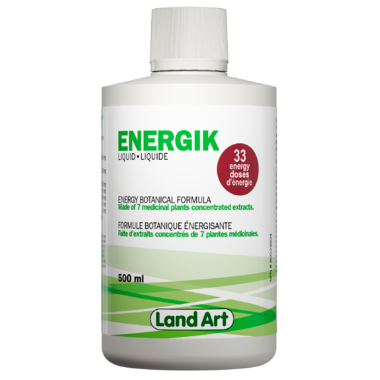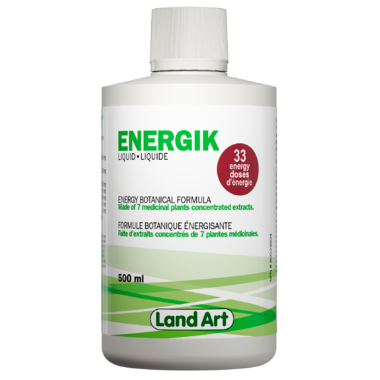 This botanical formula of traditional extracts is made from 6 plants known to increase physical endurance and alertness (Korean ginseng, quinquefollium ginseng, guarana, yerba mate, schisandra, green tea). Land Art Energik increases vitality level, physical resistance and stress tolerance and helps you to stay alert. Make your own healthy energy drink by adding one dose of Land Art Energikto your favourite fruit juice!
Directions:
Adult: 1 tablespoon (15 ml) per day. In case of digestive sensibility, take with food. Refrigerate after opening.
Medicinal Ingredients (per 15 mL)
:
Siberian Ginseng, root (Eleutherococcus senticosus) Extract 1:9 ... 350 mg
American Ginseng, root (Ginseng quinquefolium) Extract 1:10 ... 300 mg
Yerba Mate, leaf (Ilex paranguariensis) Extract 1:9 ... 350 mg
Guarana, fruit (Paulinia cupana) Extract 1:9 ... 333 mg
Green tea, leaf (Camelia sinensis) Extract 1:6 ... 500 mg
Schisandra, fruit (Schisandra) Extract 1:1 ... 30 mg
Royal Jelly ... 30 mg
Non-Medicinal Ingredients:
Purified water, fructose, citric acid, sodium benzoate, potassium sorbate.
Contains no dairy, wheat, gluten, yeast or corn.Cautions:
Consult a health care professional prior to use if you are suffering from liver disorder or if symptoms of liver disorder appear. Do not use if you are pregnant or breastfeeding. Consult a health care practitioner prior to use if you are taking anti-hypertensives, anti-psychotics, blood thinning medication and/or antibiotics or if you are undergoing therapy for diabetes.