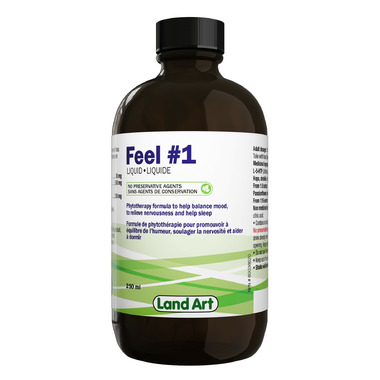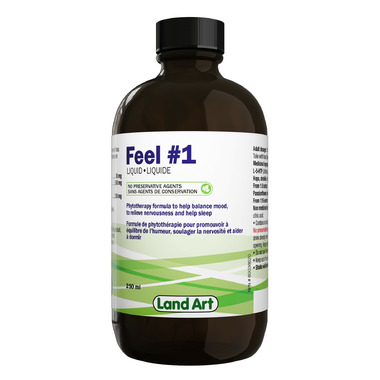 This innovative product from Land Art is composed of botanical extracts that help aid in the healthy management of emotions. Contrary to prescription antidepressants and sleeping pills, Land Art Feel No1 doesn't have any unpleasant side effects such as dry mouth or decreased libido.
Feel No1 contains a synergystic blend of L-5-HTP, Hops and Passionflower. It has been found that 5-HTP also helps to sooth migraines and reduce appetite! (Good news for those trying to lose weight!)
Health Benefits:
Naturally relieves depression
Reduces anxiety, nervousness, hyperactivity, tension and agitation
Treats sleep disorders and nervous insomnia (the kind that keeps awake all night from worrying)
Reduces panic, irritability and all other deregulation due to stress
Directions:
Adults: 5 ml, 3 times per day in a juice or a glass of water. Take with food.
Medicinal Ingredients (per 5 mL):
L-5-HTP (Isolated from Griffonia seed) ... 50 mg
Hops, strobile (Humulus lupulus) ... 500 mg
dry herb (in 4000 mg 1:8 extract)
Passionflower, herb (Passiflora incarnata) ... 250 mg
dry herb (in 4000 mg 1:16 extract)
Non-Medicinal Ingredients:
Vegetable glycerin.
No added sugar, aroma or coloring agents. No preservatives. No allergenics (gluten, wheat, dairy products, yeast, corn).