Land Art Green Tea Extract Liquid
Honey/Lemon/Lime Flavour
500 mL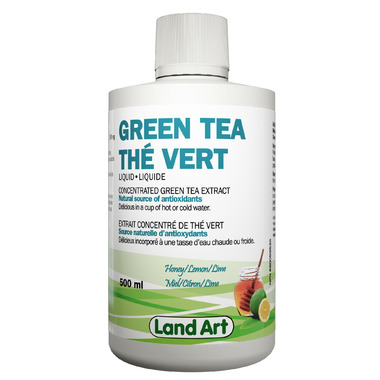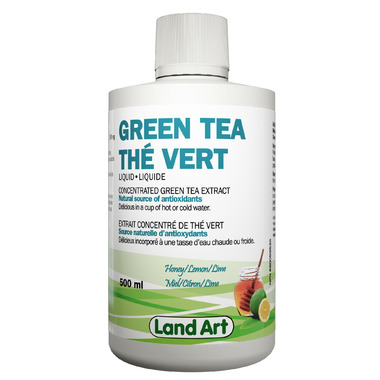 Land Art Green Tea Extract Liquid
Honey/Lemon/Lime Flavour
500 mL
Land Art developed a top quality Green Tea Extract Liquid that comes from leaves chosen from the Sinensis Camelia green tea. Its natural antioxidant concentration is 20 times superior to actual green tea. It is composed of green tea's active polyphenols (catechins) considered to be the most powerful natural antioxidants. Land Art extraction process guarantees a product without theine, fluorine, cellulose, or esters.
Directions:
Put 1 to 2 tablespoons (15-30 ml) in a cup of hot or cold water, or in a juice or a smoothie.
Medicinal Ingredients (per 15 mL):




1500mg Green tea leaf extract (Camellia sinensis)
Non-Medicinal Ingredients: Purified water, honey, vegetable glycerin, natural lime and lemon flavour, rose hips extract, xanthan gum, ascorbic acid, citric acid, potassium sorbate.