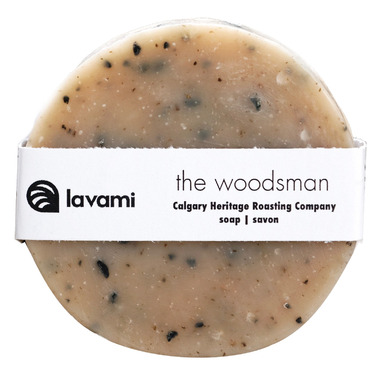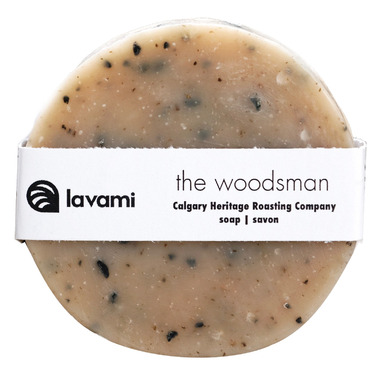 Extra exfoliating soap that is made with brewed and ground coffee and is reminiscent of the trees in the forest. Lavami's handmade soap will leave your exfoliated and feeling fresh.

All of Lavami hand and body Soaps are formulated to be gentle, moisturizing, and to hold up well in the shower while creating a luxurious lather. Part of Lavami's philosophy is that their ingredients must be high quality, non-GMO and sustainable, while supporting different communities and producers globally, but they also ensure that as many as possible are local. They believe that sourcing local ingredients helps our communities and economy, and builds on the idea of being Made in Canada.

Skin Type: Normal to oily skin

Suitable for: Hands and body

Benefits: Heavy exfoliation

Recommendation: Store on draining soap dish and outside of shower to extend life of bar.

Ingredients: Organic canola oil, coconut oil, palm oil, brewed coffee, lye, scotch pine, cedarwood and pine needle essential oils, green coffee grounds (from Calgary Heritage Roasting Company).

Natural, Vegan, Gluten Free, non-GMO, No Synthetic Preservatives, Made in Canada






Julie:
a few months ago
I'm a big fan of Lavami's other soaps, but make sure you notice the "Extra exfoliating" in the product's description. I find the coffee in the soap too rough and scratchy on my skin. I ended up picking out the pieces of coffee when they become exposed. Works as a great foot scrub though!
Page
1