Lifefactory Glass Baby Bottle with Silicone Sleeve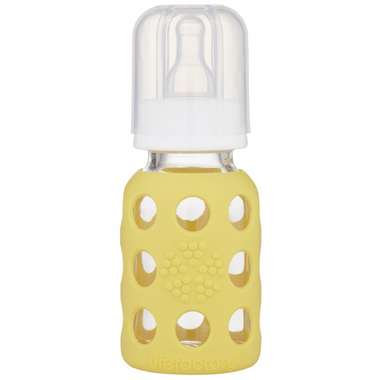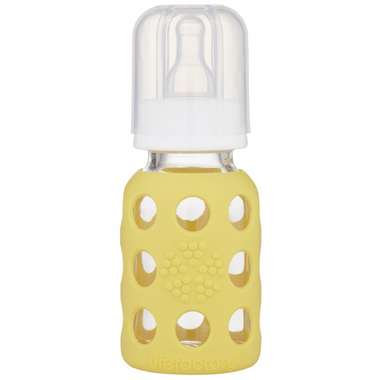 Lifefactory Glass Baby Bottle with Silicone Sleeve
Perfect for little hands! The brightly-coloured silicone sleeve provides a great grip and tactile experience during feeding.
Features:
Durable - The borosilicate glass is thermal shock resistant and therefore can go from freezer to boiling water. The silicone sleeve helps protect the bottle from the inevitable drop off the stroller or feeding chair.
Healthy - Glass is the healthiest choice for your family as there is no chance of any chemicals leaking in to liquids. The entire product, including all components, is completely free of known toxins including BPA, phthalates, polycarbonates, and PVC.
The colourful sleeves and nipples are made from medical-grade silicone. Like the bottle, they are non-toxic and free of any plastic or latex.
Dishwasher Safe - The bottle and sleeve can be boiled or tossed into the dishwasher together. No need to take them apart or fuss with small parts.
Makes Feeding Easy - Bottle goes from breast pump, to freezer, to warm water, making breast milk storage simple. Great for mixing and warming formula, too.
Versatile - Designed to grow with your child. The included clear cover can also serve as an easy-to-hold first cup.
Please remember, while more durable than other types of glass, borosilicate glass can still crack when subject to rapid temperature variations or severe impact.
4oz bottle includes stage 1 (0-3 months) silicone nipple
Carley:
a few months ago
I have been eyeing these bottles up for awhile on Well.ca and now that I have them I wish I had bought them earlier. My son has thrown them on the hardwood floor a few times now and they survived. Thank goodness! I purchased the white cap lids with them and plan on using them for the next few years. A great product!
1