Lifefactory Glass Bottle Lilac Flip Cap & Silicone Sleeve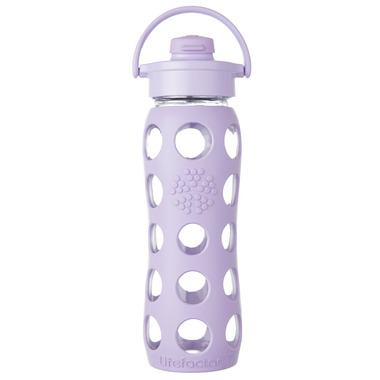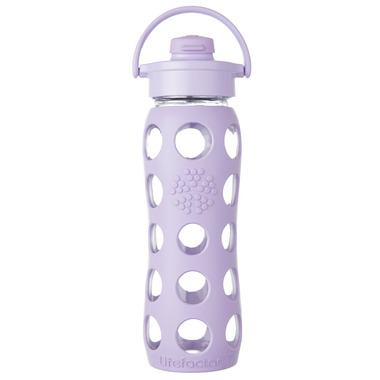 Lifefactory Glass Bottle Lilac Flip Cap & Silicone Sleeve
Lifefactory Glass Bottle with Lilac Flip Cap and Silicone Sleeve provides a narrow-mouth spout for on-the-go drinking. The medical-grade silicone flip top seals with the polypropylene (PP#5) cap. The pivoting handle provides a great way to carry the bottle and stows out of the way while drinking.
Features:
Glass bottles offer a pure taste with no leaching from plastics or metals
Wide-mouth access makes it easy to add ice cubes, citrus slices or tea bags
Protective silicone sleeve provides a non-slip gripping surface and helps prevent breakage
Dishwasher safe (place cap on top rack, no need to remove silicone sleeve)
Includes polypropylene cap - flip top made of silicone
All materials are FDA approved
All components made in the US or Europe
Product assembled in the US
BPA-free and phthalate-free
Dimensions:
Height: 27.94 cm (11")
Cap width: 9.14 cm (3.6")
Base width: 7.94 cm (3.125")
Weight: 1.2 lbs
Capacity: 650 mL (22 oz)
Tealia:
a few months ago
Absolutely love my water bottle. I don't go anywhere now without it. I'm a tad lazy and bought the straw cap which I like better. The only issue would be to be careful when placing it down. My sister smashed my last one because she dropped it into a bag on the floor (from bending down) and it hit the wrong side and cracked :( I read they can last up to 5 years though! Here's hoping!
Page
1