Lily Of The Desert Facial Toner
Antioxidant Boosting
236 mL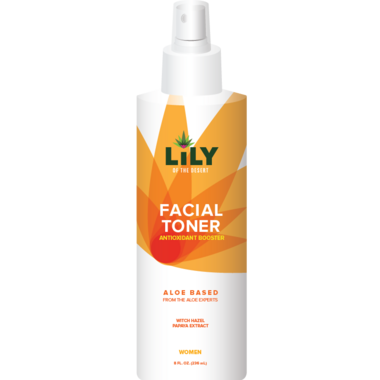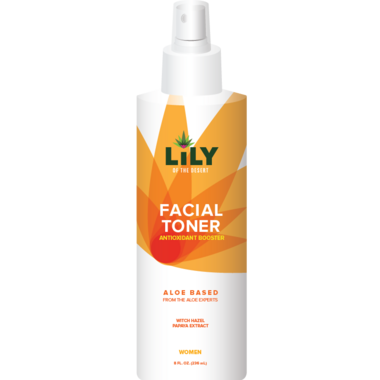 Lily Of The Desert Facial Toner
Antioxidant Boosting
236 mL
The Lily Of The Desert Facial Toner moisturizes, hydrates, and rejuvenates.
Your face deserves the absolute best. Take care of it with Lily Of The Desert's antioxidant boosting facial toner featuring Witch Hazel and Papaya Extract. It's your time in the spotlight.
Free from parabens, sulfates, phthalates, artificial dyes and fragrances, animal byproducts and testing.
Key skin care ingredients:
Papaya to keep your skin hydrated and remove dead skin cells
Peppermint to energize and wake up your skin
Witch Hazel to act as an astringent.
Aloe Vera to moisturize and heal
Ingredients
: Organic Aloe Vera Barbadensis Leaf Juice, Deionized Water, Vegetable Glycerin, Hamamelis Virginiana (Witch Hazel) Leaf Extract, Polysorbate 20, Organic Aloe Vera Barbadensis Leaf Polysaccharides, Ethylhexylglycerin, Phenoxyethanol, Carica Papaya (Papaya) Fruit Extract, Mentha Piperita (Peppermint) Oil, DL-Panthenol, Menthol
Vegan, Gluten Free, Non-GMO, Dairy Free, Peanut Free, Tree Nut Free