Little Duck Organics Tiny Fruits + Veggies Banana, Mango & Edamame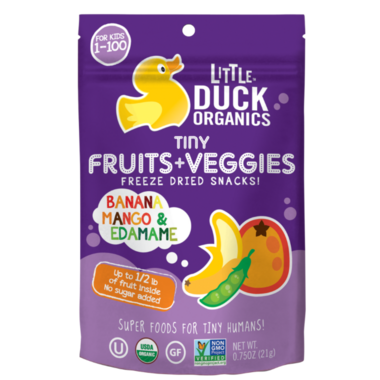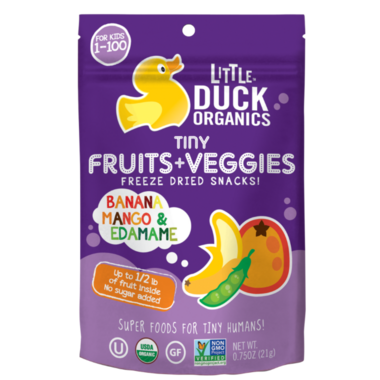 Little Duck Organics Tiny Fruits + Veggies Banana, Mango & Edamame
Little Duck Organics Tiny Fruits snacks come in convenient pouches that are packed with 100% real fruit and veggies and are full of the vitamins and minerals your child needs for healthy development. This Banana, Mango & Edamame Tiny Fruits + Veggies pouch is filled with up to a whopping half-pound of organic bananas, mangos and edamame! The fruits and veggies are diced and water is freeze-zapped out. What you get are vitamin and nutrient-dense, freeze dried fruit and veggie snacks. NO added sugar, NO preservatives, NOthing but the best!
Tiny Fruits + Veggies are USDA Certified Organic, Project Non-GMO verified, gluten-free, kosher, dairy free and nut free. Superfoods for super humans, big and small!
Ingredients:
Organic Bananas, Organic Mangos, Organic Edamame
Features:
100% organic fruit
Non GMO verified
Gluten free
No sugar added
Dissolves quickly in kid's mouths
Easy for tiny hands to hold

Mona Lisa:
more than a year ago
Was a bit disappointed with this flavor. The edamame is a bit sharp for my little girls mouth, plus the mango bits were hard. They don't dissolve quickly in the mouth. Plus as a previous post mentioned the price is quite steep as a snack for a one year old! I ended up eating the bag when I had purchased it for my daughter.
Annie:
more than a year ago
This product is great and my kids love it. I love that it only includes the fruit ingredient and nothing else added and that the dried fruit doesn't have a weird smell to it when you open the package (I find most usually do). The product itself deserves a five star but I gave it a four because it's very expensive for the quantity offered.... One pouch is one snack for my 1 year old which at 7 bucks is a little steep.... I would buy again if on sale or if the price comes down....
Page
1