Logan and Lenora Waterproof Carryall Tote Spots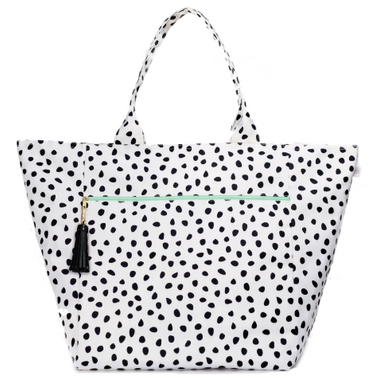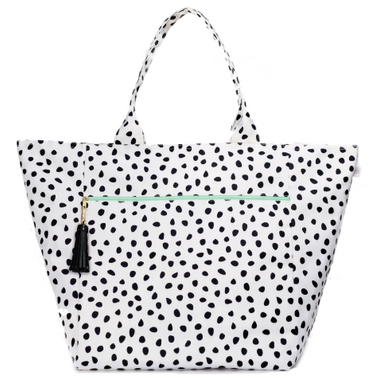 Logan and Lenora Waterproof Carryall Tote Spots
Logan and Lenora's roomiest tote is a lightweight carryall with 3 waterproof pockets that easily packs flat. Made with toxin free performance fabrics perfect for Mommyhood.
Features:
3 waterproof pockets: one extra large interior with magnetic top closure, one zippered inner pocket, and one zippered exterior pocket
Sturdy over the shoulder straps
Vegan leather tassel
Outer fabric is a durable poly canvass that looks and feels like cotton canvas while being lightweight
Dimensions: 16"Hx24"Wx11"D
Inner Waterproof Lining: their specially formulated lining starts with a double coating of waterproof barrier material which is then thermally applied to a flexible poly knit base fabric. During construction, all seams are thermal sealed for watertightness. The end result is stronger, safer and softer. Free of PVC, BPA & Phthalates.

Outer Performance Poly Canvas: Twice as strong as cotton, their poly canvas is high temperature printed for color vibrancy and fade resistance. They use inherently stain resistant poly fibers to avoid harmful chemical coatings. It'll keep your bag looking better, longer.

Care Instructions: Yes, you really can toss this Logan and Lenora bags in the wash. Remove any tassels & straps, pull out the lining, wash on cold, machine dry 10-20min.