Lorna Vanderhaeghe Regular Girl Prebiotic Fiber & Probiotic Blend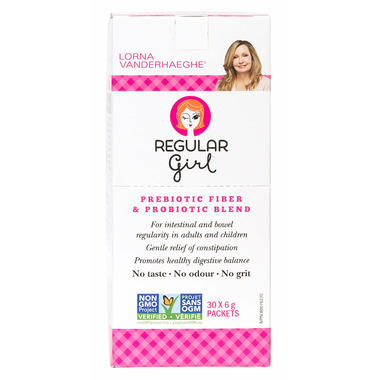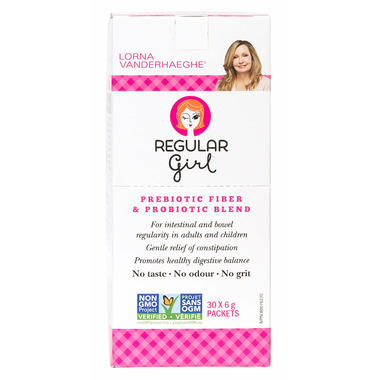 Lorna Vanderhaeghe Regular Girl Prebiotic Fiber & Probiotic Blend
Regular Girl is a synbiotic blend of clinically proven prebiotic fiber and probiotics that helps maintain a healthy digestive balance.
Features:
Promotes regularity in adults and children
Helps eliminate diarrhea
Provides relief from constipation
Relieves the symptoms of irritable bowel syndrome (IBS)
Helps maintain healthy digestive function
Does not cause bloating and gas
Tasteless, colorless and odorless
Dissolves quickly in water
Convenient, easy-to-use stick packs
Suggested Use:
For adults and children one year and up, mix one packet (6g) into 1 cup or 250 mL of water or any non-carbonated beverage. May also be added to smoothies, cereals and yogurt.
Each stick contains:
6 grams of prebiotic Sunfiber® guar fiber delivering 5 grams of prebiotic fiber and 8 billion CFU Bifidobacterium lactis.
Consult a health practitioner if you are pregnant, breastfeeding or you are immune compromised or taking long term corticosteroids. If you have fever, vomiting, bloody diarrhea or severe abdominal pain do not use. Fiber can increase transit time so take 2 hours apart from any medications.

Please be advised that Well.ca follows manufacturer guidelines for storing & shipping probiotics.