Love Beauty And Planet Coconut Oil & Ylang Ylang Hope & Repair Conditioner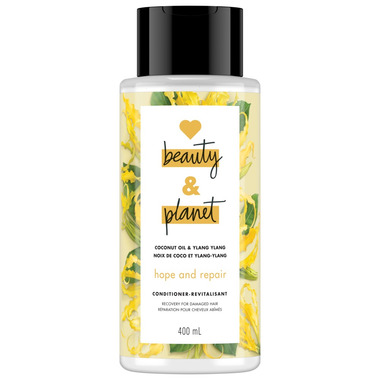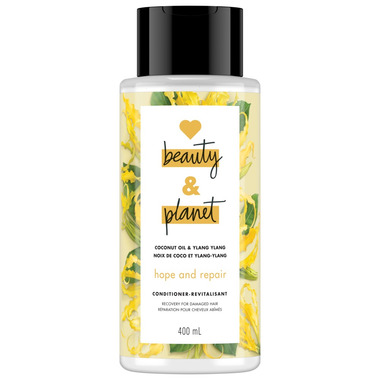 Love Beauty And Planet Coconut Oil & Ylang Ylang Hope & Repair Conditioner
At Love Beauty and Planet® their goal is to make you more beautiful and give a little love to the planet. Love Beauty and Planet® are committed to small acts of love for the planet. Their goal is a carbon footprint so small it's like we weren't even here. They started their journey by loading their beauty products with goodness. Every one of Love Beauty and Planet® bottles is made from 100% recycled materials and are recyclable. Their caps and pumps aren't made from recycled plastics yet, but they're working on it.
Give your locks some love with Love Beauty And Planet hydrating Love Beauty & Planet Hope & Repair Conditioner. Plus, with fast-rinse technology in each of their conditioners, you'll feel good knowing that you helped save water every shower. Specially formulated with coconut oil, this generous conditioner gently nourishes and strengthens your hair, giving your locks all they need to keep flowing strong and freely. Called the "Tree of Life" in the Philippines, their hydrating coconut oil comes from 250 local, sustainable farms that harvest only the freshest coconuts for our virgin coconut oil, which takes the place of silicones in all of our hair collections.
Each bottle will indulge your senses with a kiss of ylang ylang that's handpicked on the Island of Moheli. Adored by perfumers for its lively solar tones, Love Beauty And Planet love ylang ylang because its floral, jasmine-like scent adds overtures of fruit and spice to coconut oil's decadent but delicate fragrance.
How to Use:
Using your fingers, divide your hair into sections
Apply a coating of Hope & Repair Oil throughout each section
Make sure to put oil on every layer of your hair
Wash out in the shower with Hope & Repair Shampoo and Conditioner
Features:

YES Organic Coconut Oil

YES Ethnically Sourced Ylang Ylang

YES Safe for Coloured Hair

YES Vegan

YES with Plant Based Cleansers

YES Not Tested on Animals

NO Silicones

NO Parabens

NO Dyes

NO Guilt
Ingredients:
Aqua, Cetearyl Alcohol*, Behentrimonium Chloride*, Cocos Nucifera (Coconut) Oil*, Cananga Odorata Flower Oil*, Parfum, Dipropylene Glycol, Acrylates/Beheneth-25 Methacrylate Copolymer, Disodium EDTA, Methylchloroisothiazolinone, Methylisothiazolinone, Benzyl Alcohol, Benzyl Salicylate, Limonene, Linalool *plant based ingredients
.