Lovefresh Natural Organic Conditioner Rosemary Spearmint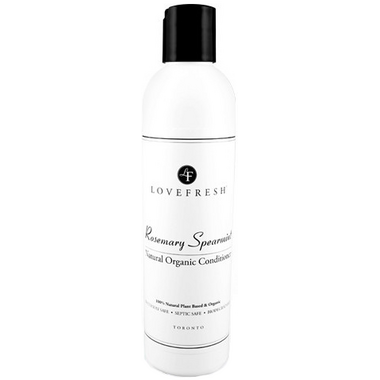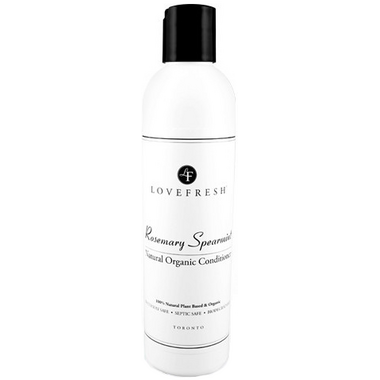 Lovefresh Natural Organic Conditioner Rosemary Spearmint
Lovefresh 100% Natural Organic Conditioner is a soft rinse that leaves your hair feeling strong and healthy. Pairing perfectly with Love Fresh natural organic shampoos this conditioner revitalizes weak, damaged, or colour treated hair.
Features:
Deeply effective for weak, damaged or color treated hair
Cleanses gently without stripping (or removing any pigmentation)
Perfect for all hair types

100% Natural, Organic, Fair Trade, Water-Way Safe, Septic Safe, Peanut-Free Facility, Vegan, Gluten Free

Ingredients:
Purified Spring Water, Organic Lavender, Organic Rosemary, Organic Horsetail herb, Organic Sage, Organic Nettle; Certified Organic extract of Organic Panax (Korean Ginseng), Certified Organic Aloe Vera Leaf Juice (AIoe Barbadensis), Organic Ginkgo Biloba Leaf, Organic Sage (Salvia officinalis), Organic Nettle Leaf (Urtica), Organic Jojoba oil (Simmondisa Chinensis), Organic Hemp Seed oil (Cannabis Sativa), Vitamin E/Tocopheryl Acetate, Oatmeal Protein, Vitamin B5/Panthenol, Plant Oil/Cane ethanol, Organic Vegetable Glycerin, Olive leaf, Salt, Blueberry extract (Earth Friendly plant preservative), Red Clover, Organic Essential Oils







Lorraine:
about a year ago
This conditioner is okay. When I received both shampoo and conditioner the conditioner looked smaller (I didn't think it was 250ml but that's what it says on the bottle). It smells quite strong (stronger than the shampoo) and it is quite expensive. I guess I was expecting more for the price. The ingredients are all natural but my hair wasn't all that soft when it dried (it felt a bit dry) and I think the rosemary caused my scalp to tingle (so I may be sensitive to that essential oil). I was not impressed with the product.
Page
1