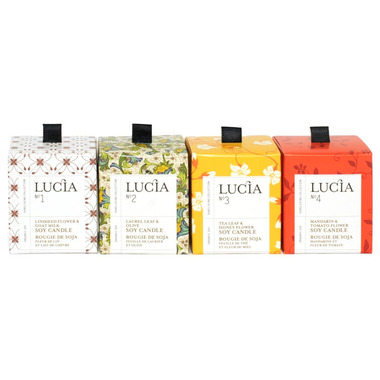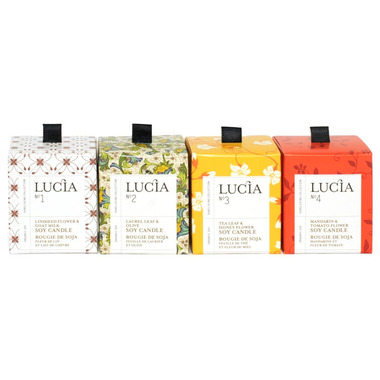 Lucia's organic soy is sourced from farming collectives all over the world encouraging fair-trade communities. Made of organic 100% soy and pure essential oils.
No. 1 Lindseed Flower & Goat Milk: Treat yourself by relaxing in your home or entertaining friends and family with this highly aromatic, natural 100% soy candle blended with Lindseed Flower and sweet Vanilla extract.

No. 2 Laurel Leaf & Olive: This Laurel Leaf & Olive candle made from 100% organic Soy is ideal for evening relaxation, bath time bliss or to create a soothing and uplifting atmosphere.

No. 3 Tea Leaf & Honey Flower: Enjoy hours of aromatic pleasure with this exquisite bouquet of freshly grown Tea Leaf and Honey Flower candle made from natural 100% organic Soy.

No. 4 Green Orange & Oak Moss: This grove fresh accord of Green Orange and Citrus is made from pure essential oils and natural 100% organic soy. Burning cleanly for over 50 hours all Lucia candles are a safe and environmentally friendly alternative to existing petroleum based paraffin candles.