Mabrook & Co. Clean Deodorant Eucalyptus & Spice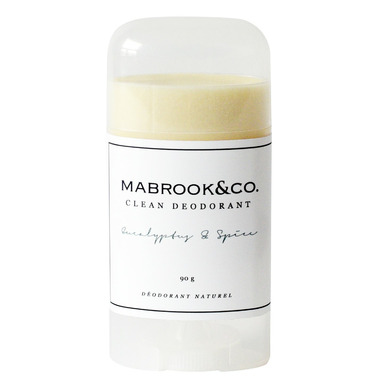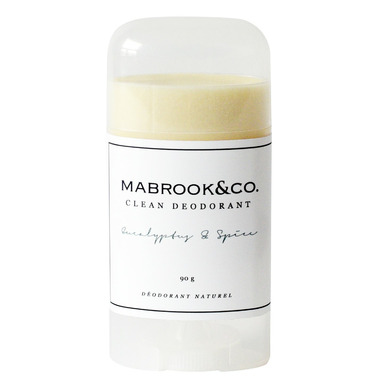 Mabrook & Co. Clean Deodorant Eucalyptus & Spice
Mabrooke & Co. Clean Deodorant fights odour and sweat by combining pure, natural, and organic ingredients in the most powerful and safe formula possible. Clean Deodorant will have you feeling confident and fresh and contains NO parabens, phthalates, propylene glycol, petrochemicals, or toxins.
Directions
: Apply product to clean underarms. Allow product to absorb for maximal efficacy.

Ingredients:
Cocos Nucifera*, Maranta Arundinacea, Cera Alba*, Sodium Bicarbonate, Tocopherol, Eucalyptus Radiata Essential Oil*, Piper Nigrum Essential Oil*, Syzygium Aromaticum Essential Oil*, Melaleuca Alternifolia Essential Oil*. (*=organic)
Cautions:
Please test product on your skin prior to use
discontinue use if rash or irritation occurs.

Natural, Gluten Free, Canadian Brand



Tracy:
more than a year ago
Traded in chemical-laden antiperspirants for natural deodorants years ago and this is one of only two that I would recommend. Leaves of Trees cream deo in the tube works best for longevity of odour control IMO but I really missed the convenience of a stick application, so I gave this a try.

You may have to reapply later in the day (as per most natural brands) and the cream is a little soft (so the stick may not last as long as other brands) but other than that, this is a stellar product.

It does the job, is soft on skin - even freshly shaven pits - and smells fantastic. Unisex scent that's not overpowering, just clean and fresh - a comforting smell. I can see this being a repeat purchase for many years.
Page
1