MacroLife Naturals MacroMeal Vegan Protein Vanilla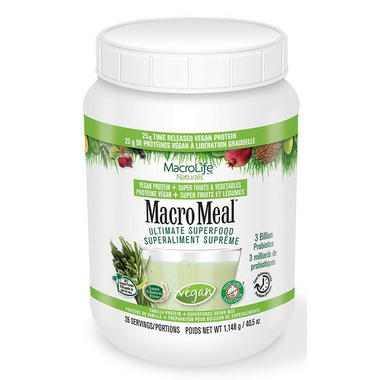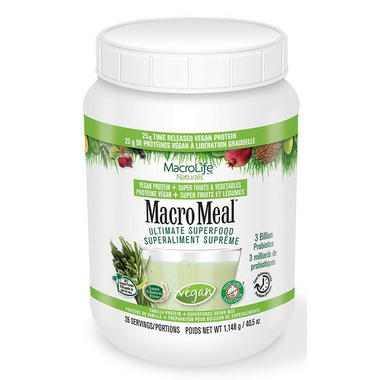 MacroLife Naturals MacroMeal Vegan Protein Vanilla
- We're sorry, this product is no longer available!
- Shop for other products in: Plant-Based Protein

MacroLife Naturals MacroMeal Vegan Protein is scientifically formulated with an advanced blend of fast, medium, and slow digesting proteins (Pea Protein Isolate, Organic Brown Rice Concentrate, Pea Protein Concentrate), that deliver sustained energy. Feel the difference of Macro Nutrition!
Features
:
Vegan Protein = Protein for Conscientious Vegan and Vegetarian.
Coconut Oil Powder naturally contains MCT (Medium Chain Triglycerides)
that sustains energy and satisfies hunger.
Superfood Blend contains Macro Greens® and Miracle Reds® essential
components.
Antioxidants absorb Free-Radicals that damage healthy cells.
Boost overall health and provide anti-aging benefits for beautiful skin.
Excellent source of Vitamin C.
Probiotics are friendly bacteria that play an important role in digestion and immune system.
Nutritious Plant Based Vitamins support your body with calcium and iron to optimum health.
Recommended Dosage:
2 scoops/12oz liquid
Ingredients
: Hydrolyzed Brown Rice Protein Concentrate, Hydrolyzed Pea Protein Concentrate, Hydrolyzed Pea Protein Isolate, Organic Flax Seed Meal, Organic Barley Grass*, Coconut Powder, Modified Coconut Oil (Medium Chain Triglycerides), Apple Powder, Sunflower Lecithin, Spirulina, Acerola Extract Powder, Sea Salt, Chlorella Powder, Spinach Powder, Aloe Vera Powder, Probiotic Blend (Lactobacillus Acidophilus, Lactobacilus Rhamnosus, Bifodobacterium Bifidum, Bifodobacterium Longum), Blueberry Powder, Pomegranate Powder, Beet Juice Powder, Organic Maca Root Powder, Goji Powder, Acai Extract Powder, Mangosteen Powder, Alpha-Tocopherol, Stevia Extract, Natural Flavours, Protease, Amylase, Lipase, Bromelain, Papain.
* Organic barley grass does not contain barley gluten. Contains 3 billion cfu per 45 g serving that contribute to a healthy gut flora
Please be advised that Well.ca follows manufacturer guidelines for storing & shipping probiotics.