MadeGood Sweet and Salty Granola Bars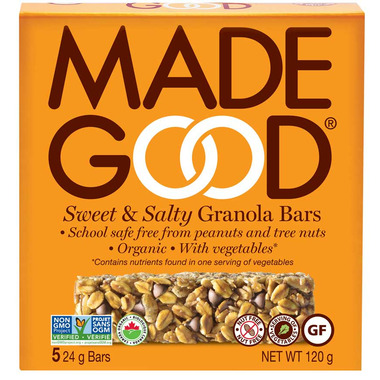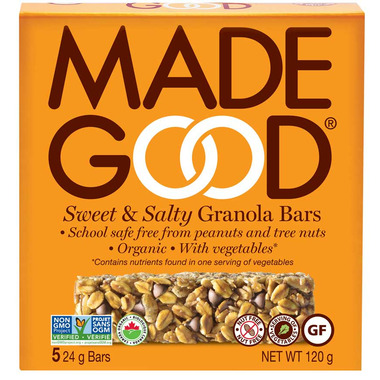 MadeGood Sweet and Salty Granola Bars
Toasted rolled oats with a nice balance between sweet and salty. These granola bars contain the nutrients of one full serving of vegetables. Since these bars are free of the top 7 allergens (peanuts, tree nuts, wheat, soy, dairy, eggs, sesame, fish/shellfish), they can go anywhere with your child, whether it be school, camp, or parties. Not to mention the adults who will love packing these in their own lunches!
Features:
Certified Organic and Non GMO
Gluten Free
Dairy Free
Peanut and Tree Nut Free
One full serving of veggies per package
Certified Vegan
Kosher
Ingredients: Pure gluten free oats*, agave nectar*, sunflower seed butter*, brown rice syrup*, crisp brown rice*, sunflower oil*, chocolate chips* (cane sugar*, cocoa mass*, cocoa butter*, vanilla*), inulin*, molasses*, sea salt, natural flavour*, vegetable extracts (spinach, broccoli, carrots, tomatoes, beets, shiitake mushrooms), agar*. *Organic.