Maison Berger Anti Odour Bathroom Candle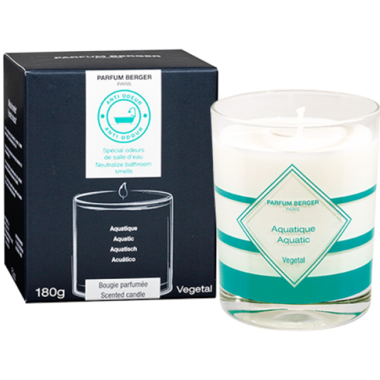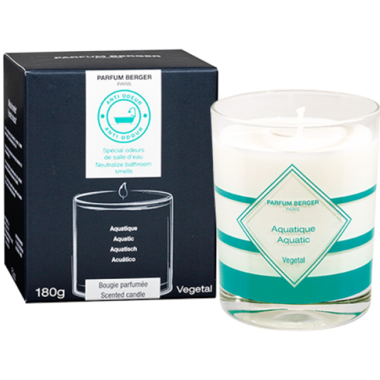 Maison Berger Anti Odour Bathroom Candle
This 180g candle is fully dedicated to neutralizing bad odours in your bathroom. Crafted with 100% botanical white wax (soy) integrating the patented molecules that neutralize odour. The efficiency of this odour fighting candle has been tested and proven by experts - perfumers and olfactory evaluators. Stylishly poured in a transparent glass, with an elegant contour and contemporary label with fragrances created by French master perfumers French, expertly measured to ensure a clean and homogeneous combustion.
The 100% botanical vegan candle combines the neutralization of bad bathroom smells (smells of moisture, sweating, etc.) a subtly aquatic perfume which marries the aromatic, fresh raw materials of orange blossom essence subtly combined patchouli and oak moss.Like a breath of aromatic freshness in your bathroom, this candle will emit a highly attractive olfactory atmosphere to create a soft ambience at bath time or at every moment of the day. A neutralizing candle with a sweet perfume that's perfect for any bathroom.
Features:
Natural 100% GMO-free botanical and vegan wax (soy), for cleaner burning.
Cotton wick braiding is specifically adapted to the format of the candle
Artisanal, ecological and sustainable manufacturing process
Patented, molecular formula for neutralizing bad smells
Fragrances created by French master perfumers, in solid wax for a controlled and homogeneous combustion
An intense and continuous fragrance, diffusing without heat for approximately 30hr.
Recommendations for use:
For harmonious burning: do not extinguish the candle until its "pool" has formed. For proper combustion: adjust the length of the wick by cutting it before each use. It must be approximately 1 cm. To preserve the candle: when not in use, do not expose it to temperatures that are too high.
Materials: 100% vegetable, clean-burning, organic cotton wick, eco-friendly, sustainable and vegan-friendly production.