Maison Berger Aroma Candle Relax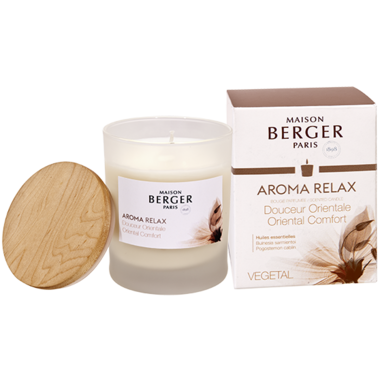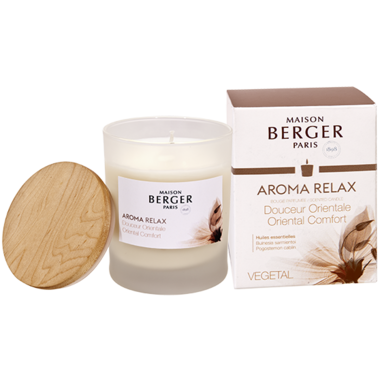 Maison Berger Aroma Candle Relax
This fragrant candle is made from 100% botanical wax and is encased in an elegant frosted glass and a modern label for a contemporary look which will blend into every home. Its natural maple lid protects the candle between uses and it's decorated packaging makes it an ideal gift for yourself or someone else.

The 100% natural botanical and vegan wax means cleaner burning and the cotton wick is specifically adapted to the format of the candle. For each fragrance, the number of cotton strands is chosen for optimal diffusion after 30 minutes of burning. The stunning Oriental Comfort fragrance is created by French master-perfumers, in solid wax for controlled and homogeneous burning. it has intense and continuous fragrance, diffusing without heat for approximately 35 hours.

Recommendations for use: For harmonious burning do not extinguish the candle until its "pool" has formed. For clean combustion, adjust the length of the wick by cutting it before each use. It must be approximately 1 cm, to preserve the candle. When it's not in use, do not expose it to temperatures that are too high and protect your product by using the maple wood lid.

Fragrance: An oriental fragrance conducive to relaxation. A delicate aniseed and fruity floral heart on a warm tonka bean and vanilla bottom. Contains essential oils of patchouli, guaiac and geranium to accentuate the balancing effect, reduce nervous tension and stress, facilitate meditation and reduce feelings of melancholy Atmosphere: An olfactory atmosphere conducive to relaxation; a delicate atmosphere of extreme comfort that will decorate your home with elegance.

Diffusion time: +/- 35 hours.

Materials: 100% vegetable, clean-burning, organic cotton wick, eco-friendly, sustainable and vegan-friendly production.