Mally Designs Chestnut Lux Suede Mally Mocs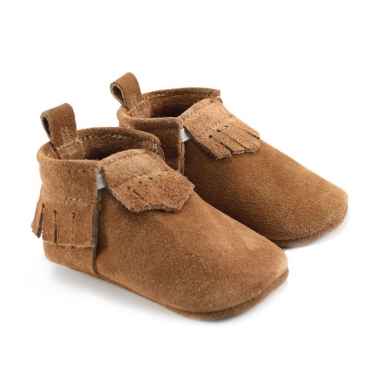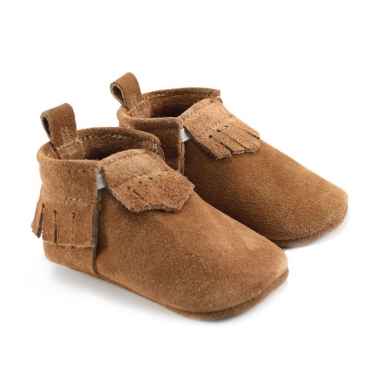 Mally Designs Chestnut Lux Suede Mally Mocs
- We're sorry, this product is no longer available!
- Shop for other products in: Shoes

100% genuine baby safe leather moccasins in their super soft 'lux suede' leather. Using their super soft and comfortable leather, they carefully designed patterns for their moccasins that include beautiful little details such as tiny little holes at the top of the moccasin fringe details. As well, they incorporated a very handy little tab at the top of the heel. This makes putting these mocs on baby's squirmy feet so much easier, and they really stay on!
You may also notice, they designed their baby mocs in a way such that the elastic is hidden from the exterior of the shoe, giving it a nice clean look. They also took the extra step to match the stitching thread colours to the leather shoes. Lastly, they not only provided a non-slip sole on their baby moccasins, but one that is a beautiful charcoal grey colour, designed to mask dirt. At Mally Designs, they believe it's all these little details that make their baby shoes so special
Mally Designs' Lux Suede moccasins are as soft as it looks in the photos. They are a little thicker and extra cozy and warm for the cooler times of year compared to their smooth leather moccasins. Their Lux Suede is the only moccasin that they make that is machine washable. To wash in the machine, wash on a gentle setting with a gentle detergent and air dry and they will be like brand new.
Each pair is carefully handcrafted in Canada.