Mary's Organic Crackers Super Seed Crackers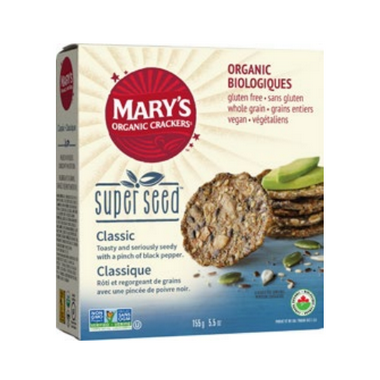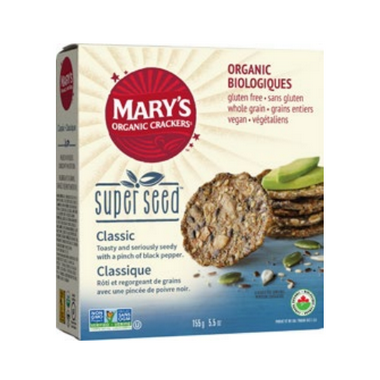 Mary's Organic Crackers Super Seed Crackers
Mary's Organic Crackers Super Seed Crackers are a gluten free, organic, wheat free and non-GMO cracker, which are a blend of sunflower, pumpkin and poppy seeds! These crackers are a perfect stand alone, soy free snack that can also be combined with a variety of delicious treats.
Enjoy this super blend of nutrition and nutty flavour!
Features:
Organic
Vegan
Kosher
Soy Free
Non-GMO
Dairy Free
Wheat Free
Gluten Free
Whole Grain
No Trans-Fats
No Hydrogenated Oils
Ingredients:
Organic short grain brown rice, organic whole quinoa, organic pumpkin seeds, organic sun flower seeds, organic brown sesame seeds, organic brown flax seeds, organic poppy seeds, filtered water, sea salt, organic sea weed, organic sea weed, organic black pepper, and organic herbs.
*Contains 450 mg. of omega-3 per serving (30g).This product was manufactured in a gluten free, dairy free, and nut free facility.