Materna
Materna Opti-Lac Postnatal Probiotic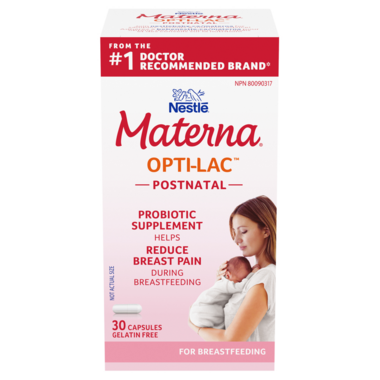 Materna
Materna Opti-Lac Postnatal Probiotic
Description
Materna Opt-Lac is formulated to help reduce breast-pain during breastfeeding. Each bottle contains 30 capsule bottle for 30 days supply.
Features:
Contains Lactobacillus fermentum LC40TM (CECT5716) a probiotic clinically shown to help reduce breast pain during breastfeeding
Non-GMO, vegan friendly, gelatin free and halal certified
Recommended Dosage:
Only 1 capsule a day from the start of breastfeeding. If using antibiotics, take 2-3 hours before or after.
Medicinal Ingredients:
Lactobacillus fermentum 3.0E9 cfu
Non-Medicinal Ingredients:
Hypromellose, Magnesium stearate, Maltodextrin, Sodium Chloride, Sodium ascorbate, Sucrose, Titanium dioxide
May Contain: Milk
Caution:
Consult a healthcare practitioner prior to use if you have nausea, fever, vomiting, bloody diarrhea or severe abdominal pain. If symptoms of digestive upset (e.g. diarrhea) occur, worsen, or persist beyond 3 days, discontinue use and consult a health care practitioner. If breast pain and/or discomfort associated with mastitis worsen, consult a health care practitioner. Keep out of reach of young children. Do not exceed the recommended daily dose. If you have an immune-compromised condition (e.g., AIDS, lymphoma, undergoing long-term corticosteroid treatment), do not use this product.
Ingredients
Medicinal Ingredients: Lactobacillus fermentum 3.0E9 cfu Non-Medicinal Ingredients: Hypromellose, Magnesium stearate, Maltodextrin, Sodium Chloride, Sodium ascorbate, Sucrose, Titanium dioxide
Shipping & Returns