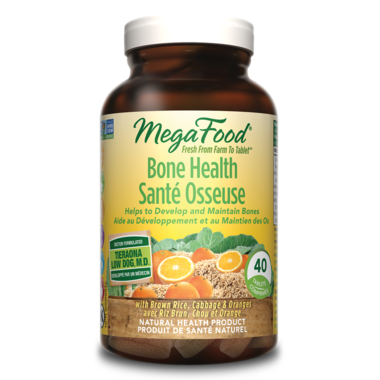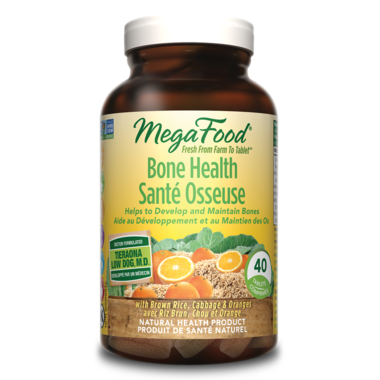 MegaFood Bone Health is loaded with essential vitamins and minerals to support bone health, enhance absorption of calcium and support muscle function.
Features:
1000 IU Vitamin D
500 mg Calcium
300 mg Magnesium—essential bone health minerals
Vitamin K1 & K2—support for bone health
Vitamin C to help enhance absorption of calcium
Vitamin D & Magnesium—support normal muscle function
Gluten free
Vegetarian
Tested free of herbicides and pesticides
Soy free
Dairy free
Non-GMO
Kosher
Dosage:
Adults: Take 2 tablets twice daily with food a few hours before or after taking other medications.
Ingredients:
Calcium (rice amino acid chelate) 125 mg, Magnesium (rice amino acid chelate) 75 mg, Vitamin C (ascorbic acid in organic orange) 25 mg, Boron 750 mcg, Potassium (mineral bound S. cerevisiae) 500 mcg, Vitamin K1/K2 (phytonadione/menaquinone-7 in cabbage) 30 mcg, Vitamin D3 (cholecalciferol in S. cerevisiae) 250 IU. Non-medicinal ingredients: guar gum, stearic acid, silica, brown rice, cellulose (protective coating).
Caution:
Consult a health care practitioner prior to use if you are taking blood thinners, have been diagnosed with estrogen dependent cancer, or have a kidney disorder.