MegaFood MegaFlora for Baby & Me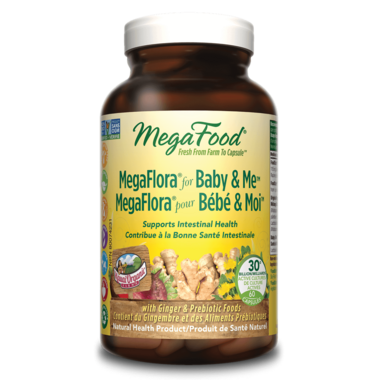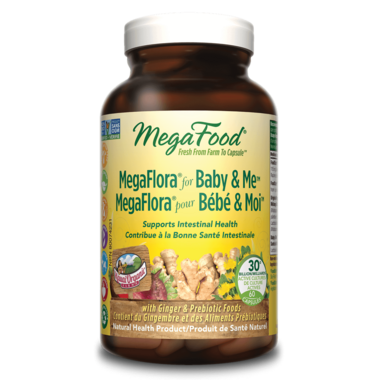 MegaFood MegaFlora for Baby & Me
MegaFood MegaFlora for Baby & Me features a signature MegaFlora blend of 14 probiotics supports immune health of a mother and developing baby.

Features:
Studies have shown pregnant women who increase their intake of Lactobacillus rhamnosus (HN001) during last trimester and early breastfeeding can reduce their child's risk of developing allergies by as much as 50%
Probiotics support nutrient absorption which benefits baby too
Farm Fresh FoodState Ginger soothes upset tummies and promotes healthy digestive function
FoodState Prebiotic Food Blend promotes the growth of good bacteria
Gentle for everyday use
Recommended Use:
Adults: Take two (2) capsules daily or as otherwise directed by a health care practitioner.
Ingredients:
FoodState® Prebiotic Blend 190 mg (115 mg Dandelion Root, 75 mg Beet Root), FoodState® Ginger Root (115 mg) Original MegaFlora® Blend 10 Billion CFU (Bifidobacterium lactis, Lactobacillus acidophilus, Lactobacillus casei, Lactobacillus plantarum, Lactobacillus rhamnosus, Lactobacillus salivarius, Lactobacillus brevis, Lactobacillus bulgaricus, Lactobacillus gasseri, Lactococcus lactis, Bifidobacterium longum, Bifidobacterium bifidum, Bifidobacterium infantis, Streptococcus thermophilus) Baby & Me™ Healthy Microbiome 5 Billion CFU Lactobacillus rhamnosus (HN001), Non-medicinal ingredients: cellulose, silica, Calcium Laurate.
Caution:
If you are on antibiotics, take at least 2-3 hours before or after. Keep refrigerated or frozen to maintain potency.
Please be advised that Well.ca follows manufacturer guidelines for storing & shipping probiotics. This product will be shipped with an ice-pack to maintain product efficacy